Derry / Londonderry named UK City of Culture 2013
The city of Derry / Londonderry has been named the UK's first City of Culture.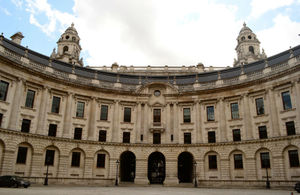 At an event in Liverpool this evening Minister for Culture, Ed Vaizey with Phil Redmond CBE, made the announcement in front of invited guests from Derry / Londonderry and the other  finalist cities; Birmingham, Norwich and Sheffield.
Inspired by Liverpool's huge success as European Capital of Culture in 2008, the Government launched a UK City of Culture competition which will allow the host city to devise a programme of events and projects which reflects its identity, showcases its culture and raises its profile, opening the doors to increased private investment and regeneration. 
Derry / Londonderry has been awarded the title because of the strong cultural programme put forward and the way it draws on the city's past; the passion and commitment of the city and its supporters and the strong evidence of engagement across all parties and communities in the city; the potential step changes which they envisage; the highlighted economic and social benefits which being UK City of Culture could bring; and the considerable work which the city has already done in terms of planning and preparing for 2013.
Derry / Londonderry has been awarded the title on the recommendation of the Independent Advisory Panel, Chaired by Prof Phil Redmond CBE. The four shortlisted cities submitted their full and final bids in May, and made final presentations to the Independent Advisory Panel on 16 and 17 June.
Mr Vaizey said: "This is a truly great moment for Derry / Londonderry. The panel were unanimous in their recommendation because of their compelling cultural programme, the way it seeks to address the city's past and the enthusiasm and commitment of the city and its supporters.
"I would like to pay tribute to the other finalist cities Birmingham, Norwich and Sheffield and thank them for the hard work and dedication that they have shown throughout this process. I hope that each of them can build on what they've done so far and that the exciting ideas they've developed will come to fruition."
Prof Phil Redmond CBE, Chair of the Independent Advisory Panel said: "We had always made it clear that there would be a clear, transparent and fair process that would not put any city in either a position of advantage or disadvantage. Bigger cities with greater resources would not be able to eclipse those less well placed and as we were looking for the UK's City of Culture the challenge was therefore a cultural one: how would they present themselves through the written word and oral presentation. How would they sell their city, their big ideas and more importantly how they would define and use culture to bring about a step change in their particular city: as Liverpool had done in 2008?
"This same challenge posed to all cities brought as varied responses as the cities themselves, but the Independent Advisory Panel was unanimous in its choice of Derry / Londonderry.
"The programme suggested was impressive, as were the plans for community engagement, economic investment and the development of digital technology. It was also the way all these elements had been woven together through a strong and compelling narrative about the City and its people. And if culture cannot be used to help promote harmony, tolerance, hope and aspiration; if it cannot be used to help people understand their past, inform their present and help shape their future - then what role does it have?
"I have no doubt that Derry / Londonderry will follow Liverpool and show what impact, what step change, a year in the media spotlight can bring about."
Notes to Editors
For interview requests with the Minister for Culture or Phil Redmond CBE please contact Gayle Douglas on 07887 754 944.

For interviews with the winner or finalist cities please contact:

Further background information on the UK City of Culture competition is available on the DCMS website.
Press Enquiries: 020 7211 2210
Out of hours telephone pager no: 07699 751153
Public Enquiries: 020 7211 6000
Published 15 July 2010