Press release
Derby pollution threat resolved
A serious pollution incident on Chaddesden Brook has now been scaled back after the initial threat was contained.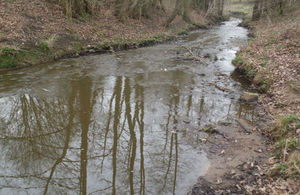 Slurry entered the brook from a local field and the change in water colour alerted a local resident who was walking his dog nearby, who then called the Environment Agency incident hotline to report his concerns.
Our officers attended the scene and found the source before taking action to contain, identify and deal with the pollutant.
Mark Cunningham, team leader at the Environment Agency said:
The vigilance and actions of the resident ensured that a huge amount of slurry did not enter the brook and flow into the River Derwent.
As the amount of pollutant was restricted, less intervention was needed. We will be carrying out further tests on the brook and the Derwent but there has been no significant environmental impact identified so far.
Tests have already shown that high concentrations of ammonia were present in the water that would be expected to be toxic to fish. By reducing the spill and ensuring that the vast majority of the slurry was stopped from entering the water we avoided major fish casualties on the Derwent and meant the warning we gave to Severn Trent Water over the drinking water extraction points on the river was purely precautionary.
The landowner once notified of the problem worked hard through the night to reduce the threat by digging trenches to contain the slurry, and then remove it from the site.
Mark continued:
At this point we have made no decision on further action, we are awaiting the results of a biological survey and need to establish the exact circumstances that led to this.
We encourage members of the public who see any impact of the pollution or any dead fish to report the matter to our incident hotline on 0800 807060.
Published 12 February 2015