Derby is front runner to cash in on new rules allowing councils to sell electricity
Rules that will come into force next week will mean Derby Council can start making cash from its green energy projects. The laws, introduced…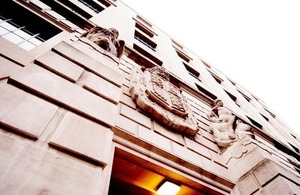 Rules that will come into force next week will mean Derby Council can start making cash from its green energy projects.
The laws, introduced by DECC mean that from 18 August 2010, local authorities are no longer restricted from selling renewable electricity into the national or local network.
Derby already has schemes in the pipeline that will now benefit from this change including the first hydro electric plant at Longbridge.
Further hydro projects will also become commercially viable in Derby under the new laws as well as plans for onshore wind and solar photovoltaics.
Councillor Matthew Holmes, Cabinet Member for Planning and the Environment, said:
"We are delighted at this news because for us it is the culmination of almost two years of lobbying to get the Government to make this change.
"Longbridge Weir is the first of what we hope will be many larger scale Council led renewables projects in Derby and is an important step in reducing the Council and wider City emissions.
"Until this change was enacted the Council was faced with the challenge of what to do with surplus generation output when we were not allowed to sell it to the grid."
Secretary of State The Rt Hon Chris Huhne MP said:
"For too long, Whitehall's dogmatic reliance on 'big' energy has stood in the way of the vast potential role of local authorities in the UK's green energy revolution.
"Forward thinking local authorities such as Derby have been quietly getting on with it, but against the odds, their efforts frustrated by the law.
"I've taken the early step of overturning the ban on local authorities selling renewable electricity to the grid.
"I've today written to all council chief execs urging them to take advantage and lead a local energy revolution.
"This is a vital step to making community renewable projects commercially viable, to bring in long-term income to benefit local areas, and to secure local acceptance for low-carbon energy projects."
---
Notes for editors
The Longbridge hydro will feed its power into the council headquarters building and any surplus (night time) generation will be sold to the gird.
The peak power output will be 230kW falling to 40kW as river flows decrease. In times of flood the hydro would shut down completely.
The hydro is expected to generate 1,250,000kWh of electricity per year,saving almost 700t of CO2 emissions.
The projected income from the project fully covers its financing costs so it has not diverted resources from other council capital projects.
Work is expected to start on site early in 2011 with completion late summer 2011.
Other projects in the pipeline include the following:
early work on eight further hydro opportunities within the city - two of which may be fully self-funding. Three other smaller sites may still be developed for demonstration purposes.
planning applications are presently being considered for wind resource prediction masts at three locations in the city. If these go ahead they will provide the evidence to either justify wind generation at the sites or prove it is not viable.
feasibility work is under way to establish a business case for installing large scale (50-100kWp) solar photovoltaic panels on two council buildings.
a feasibility study investigating the viability of a city centre combined heat and power backed district heating scheme is almost complete.
an investigation is under way to establish whether a second-hand combined heat and power unit could economically be installed at Moorways swimming pool, given its expected short remaining life.
the Council has been working with Partnership for Renewables to establish the feasibility of large-scale wind generation on council-owned land. Following its initial report, PfR has chosen not to take this forward with the council because it has better business case opportunities with others in the public sector. The council now intends to revisit this work to establish its ongoing options with a view to developing large-scale wind generation without the involvement of PfR.
At present only 0.01% of electricity in England is generated by local authorities, despite the scope that exists to install projects on their land and buildings.

In one of the first actions of the coalition government, a ban on local authorities selling renewable electricity, dating back to 1976, will end on 18 August. This will open up the full benefit of renewable energy incentives such as the feed-in tariff.
Published 9 August 2010