News story
Derailment of a freight train near Heworth, Tyne and Wear
Investigation into a freight train derailment at approximately 15:20 hrs on 23 October 2014, near Heworth, on the approach to Newcastle upon Tyne.
This news article was withdrawn on
This item has been moved to the National Archives as RAIB has published its report describing this accident. See Report 16/2015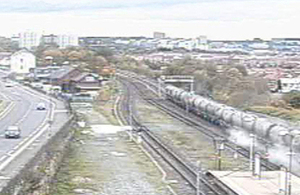 The train comprised a class 66 locomotive and 25 two axle cement tank wagons, which were empty. It was travelling at a speed of around 51 mph (82 km/h) when the tenth wagon derailed just after passing through Heworth station. The maximum permitted speed for this train on this section of railway line was 60 mph (97 km/h).
The train driver was unaware of the derailment and the train continued with the wagon running derailed for a distance of around 1.5 miles (2.4 km) causing damage to the track and signalling equipment. The signaller became aware of the possibility of a derailment through damage to the signalling equipment and placed a signal back to red in front of the train. Accordingly, the driver brought the train to a stand just before Park Lane junction, and after being asked to examine the train by the signaller, reported back that one wagon had derailed. No one was injured as a result of this accident.
Examination of the line, on the approach to the point at which the wagon derailed, revealed the ballast was heavily contaminated with mud in places and there were regularly spaced variations in the vertical height of the rails; a phenomenon known as cyclic top. Examination of the suspension on the wagon found a gap between two of the friction surfaces on the leading right-hand corner. Some of the suspension components on this corner were subsequently found to be worn beyond the permitted maintenance limit.
Our investigation will seek to identify the sequence of events leading to the derailment. It will consider how the track and wagon interacted to cause the derailment and how both were being maintained.
Our investigation is independent of any investigation by the Office of Rail Regulation.
We will publish its findings, including any recommendations to improve safety, at the conclusion of our investigation. This report will be available on our website.
You can subscribe to automated emails notifying you when we publish our reports and bulletins.
Published 26 November 2014