News story
Derailment of a freight train at Porthkerry, Vale of Glamorgan
Investigation in a derailment that occurred on the line between Barry and Bridgend, in the early hours of Thursday 2 October 2014
This news article was withdrawn on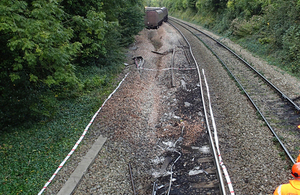 At about 02:30 hrs, the last two wagons of a loaded freight train (reporting number 6B81) derailed on the Down line between Porthkerry No. 1 Tunnel and Porthkerry Viaduct. The train comprised a class 66 locomotive pulling 21 loaded coal wagons and was en-route from Avonmouth to Aberthaw power station.
The derailed wagons were dragged to a stand causing extensive track damage over a distance of about 80 metres. The driver, who was uninjured, discovered that the last two wagons were derailed when walking back to inspect his train.
Our preliminary examination has revealed that the derailment was almost certainly caused by a defective rail which collapsed as the freight train passed over it.
Our investigation will examine the sequence of events leading up to the accident and the cause of the rail failure. This will include consideration of the design, inspection and maintenance of the track. It will also examine what was known about the condition of the rail prior to the derailment and the adequacy of any plans that were in place to manage the risk of the rail failing.
Our investigation is independent of any investigations by the safety authority or the railway industry. We will publish our findings, including any recommendations to improve safety, at the conclusion of our investigation. This report will be available on our website.
You can subscribe to automated emails notifying you when we publish our reports and bulletins.
Published 17 October 2014