News story
Derailment of a freight train at Ashburys, Manchester
Investigation into a freight train derailment at Ashburys, as it departed from Ashburys sidings on Thursday, 13 November 2014
This news article was withdrawn on
This item has been moved to the national archive as RAIB has published its bulletin describing this accident. See Bulletin 02/2015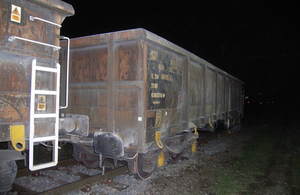 The train comprised a class 66 locomotive pulling 18 empty JRA box wagons and was en-route from Ashburys sidings to Hindlow, near Buxton. At about 19:35 hrs, all wheels on the trailing bogie of the sixteenth wagon in the train derailed on the Up Arrival line while travelling at approximately 6 mph (10 km/h).
The derailed wagon caused damage to the track over a distance of about 90 metres before the driver, who noticed that the train was losing air from the brake pipe, brought it to a stand.
Our preliminary examination revealed that the derailment was almost certainly caused by a cracked wheel. A crack had propagated from the wheel tread to the axle, loosening the fit between wheel and axle. This allowed the wheel to move inwards on the axle. Close examination has since revealed that other wheels on the same wagon also had evidence of cracking.
The investigation will also consider the performance of the braking system (as a potential source of wheel heating) and will include a review of the maintenance and service history of the wagon.
Our investigation is independent of any investigations by the safety authority or the railway industry. We will publish our findings, including any recommendations to improve safety, at the conclusion of our investigation. This report will be available on our website.
You can subscribe to automated emails notifying you when we publish our reports and bulletins.
Published 3 December 2014