News story
Derailment due to a landslip at Loch Eilt
Investigation into a derailment due to a landslip at Loch Eilt, Lochaber, 22 January 2018.
This news article was withdrawn on
This item has been moved to the National Archives as RAIB has published its report describing this accident. See report 10/2018.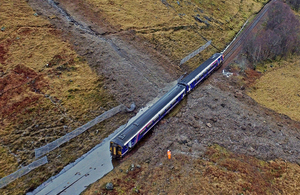 At 06:47 hrs on Monday 22 January 2018, a passenger train travelling between Mallaig and Glasgow Queen Street struck a landslip. The leading vehicle derailed and tilted to the left. There were no injuries among the five passengers and two crew on board. Passengers were evacuated to the nearest road access by a specialist rail vehicle and then transported by taxi.
The landslip was on a remote section of track between Lochailort and Glenfinnan where the line runs across sloping ground above the shore of Loch Eilt. The accident happened in darkness following a period when significant snow melt occurred at the same time as moderately heavy rainfall. The landslip originated above the railway boundary. A proportion of the several hundred tonnes of material that slipped was deposited on the railway. This destroyed a section of a fence installed recently to protect the railway from individual loose boulders rolling down the adjacent slope.
Our investigation will seek to identify the sequence of events which led to the accident and will consider:
the arrangements for protecting the railway from landslip debris at this location
Network Rail's procedures for managing the combined effect of rain and melting snow
any underlying management factors
Our investigation is independent of any investigation by the railway industry or by the industry's regulator, the Office of Rail and Road.
We will publish our findings, including any recommendations to improve safety, at the conclusion of our investigation. This report will be available on our website.
You can subscribe to automated emails notifying you when we publish our reports.
Published 6 February 2018