News story
Derailment at London Paddington station 25 May 2014
Investigation into the derailment of an empty five car Class 360/2 passenger train at London Paddington main line station
This news article was withdrawn on
This item has been moved to the national archive as RAIB has published its report describing this accident. See Report 03/2015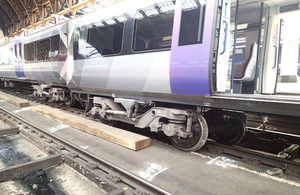 The train that derailed was reporting number 5T08, manufactured by Siemens and operated by Heathrow Express. It was travelling from Old Oak Common to Paddington in preparation for entering passenger service.
At 05:20 hrs, both sets of wheels on the leading bogie of the third vehicle derailed to the left when the vehicle was about 150 metres from the buffer stops in platform 3 and travelling at between 12 and 14 mph (19.3 and 22.5 km/h).
The driver twice stopped the train after it derailed. On both occasions, unaware of what had happened, he restarted the train. As a consequence, the train ran nearly 100 metres in a derailed state and was finally stopped with the right side of the derailed bogie in a pit that was located between the rails, which lifted both wheels on the left side of the rear bogie off the rails. No one was injured.
Platform 3 remained closed for the remainder of the day.
Our investigation, being conducted with the assistance of the industry parties involved, is examining the sequence of events leading up to the derailment to identify the causes. This includes consideration of the design, maintenance and condition of both the track and the derailed vehicle.
The investigation has found that there was an imbalance of wheel loads across each of the bogies on the derailed vehicle; the imbalance was in the opposite direction on each bogie. Measurements confirmed that the bogie frames were sitting with one side higher than the other one. The imbalance was likely caused by uneven setting of the anti-roll bar links causing the anti-roll bars to carry loads between the body and bogies. This issue has been notified to and within the industry; and the RAIB has been informed that actions are being taken in response.
Our investigation is independent of any investigation by the safety authority (the Office of Railway Regulation).
We will publish our findings, including any recommendations to improve safety, at the conclusion of our investigation. These findings will be available on our website.
You can subscribe to automated emails notifying you when we publish our reports and bulletins.
Published 12 June 2014