News story
Derailment at Ely West Junction, 14 August 2017
Investigation into a derailment of a freight train at Ely West Junction, 14 August 2017.
This news article was withdrawn on
This item has been moved to the National Archives as RAIB has published its report describing this accident. See report 09/2018.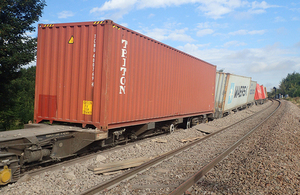 At around 14:20 hrs on 14 August 2017, a freight train derailed at Ely West Junction, near the town of Ely in Cambridgeshire. The train was travelling from the port of Felixstowe to a terminal at Doncaster and consisted of a diesel locomotive hauling 30 container-carrying wagons. The rear 12 wagons became derailed as the train traversed a set of points which formed part of the junction.
As a result of the derailment, there was extensive damage to the railway infrastructure. The derailed wagons were also damaged. There were no injuries. The railway was closed to all trains until 03:00 hrs on 21 August 2017.
Our investigation will seek to identify the sequence of events that led to the accident and how the wagons derailed. It will also consider:
the condition of the track and its geometry in the area of the derailment
the condition of the wagons and their maintenance
how the weight was distributed on the first wagon to derail, and the likely effect that this had on its derailment resistance
similar UK derailments of container flat wagons in recent years and the industry's response to subsequent safety recommendations
any relevant underlying management factors
Our investigation is independent of any investigation by the railway industry or by the industry's regulator, the Office of Rail and Road.
We will publish our findings, including any recommendations to improve safety, at the conclusion of our investigation. This report will be available on our website.
You can subscribe to automated emails notifying you when we publish our reports.
Published 24 August 2017