News story
Derailment at Ealing Broadway
Investigation into a derailment near Ealing Broadway station, London, 2 March 2016.
This news article was withdrawn on
This item has been moved to the National Archives as RAIB has published its report describing this accident. See Report 24/2016.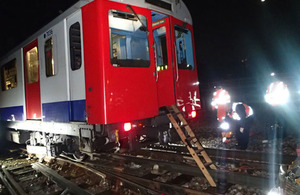 At 01:30 hrs on 2 March 2016 a London Underground District line train became derailed on points 39 outside Ealing Broadway station.
The train, which was forming a service from Upminster, had been held for about an hour at signal WP17 outside Ealing Broadway, which was set at danger (red) due to a track circuit failure.
Staff took action to secure points 38, which are in the route from signal WP17 to platform 7. Points 39A in the route had not been identified as also requiring securing and these were not set correctly for the train to pass over them. It was at these points that the train derailed, at a speed estimated to be less than 5 mph (8 km/h), having been authorised to pass signal WP17 at danger.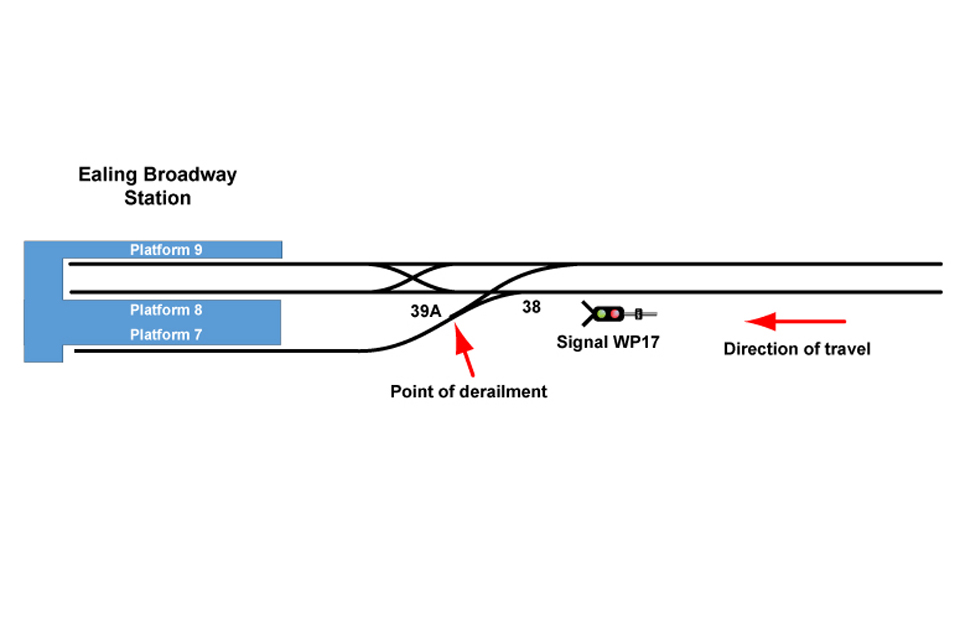 No-one was injured in the derailment and there was no damage to the train, but the points were badly damaged.
There were nineteen passengers on the train, who were escorted to the platform at Ealing Broadway.
Our investigation will examine:
the methods London Underground uses to correctly identify and secure points in a route, when it is necessary to authorise a train to pass a signal at danger
the effectiveness of the non-technical skills training provided by London Underground to its safety critical staff
the effectiveness of the relationships and management arrangements in situations which involve staff from different Underground lines in the management of the same incident and
any relevant underlying management issues.
It will also consider any previous relevant recommendations made by the RAIB.
Our preliminary examination also found that some of the documents that staff were using to identify the points and signals in the route to be taken by the train were out-of-date, and did not show the arrangements which actually exist. We have issued urgent safety advice to London Underground, saying that it should take urgent steps to ensure that there is an adequate process in place covering the issue, management and control of safety critical documentation for signal operators, line controllers and other staff with responsibility for the safe movement of trains.
Our investigation is independent of any investigation by the railway industry, the Office of Rail and Road (ORR) or the Health & Safety Executive.
We will publish our findings, including any safety recommendations at the conclusion of our investigation; these will be available on our website.
You can subscribe to automated emails notifying you when we publish our reports.
Published 16 March 2016