Derailment of a freight locomotive at Doncaster, 21 December 2018.
This news article was withdrawn on
This item has been moved to the National Archives as RAIB has published its safety digest describing this accident. See safety digest 04/2019.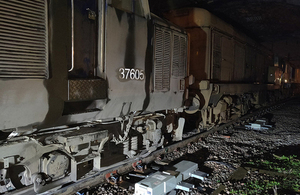 At around 17:17 hrs on 21 December 2018, the third locomotive in a train of four light locomotives derailed at approximately 13 mph (21 km/h). The locomotive had just left Roberts Road depot and was traversing a tight left-hand curve towards Doncaster station. There were no injuries, although some infrastructure was damaged and train services were heavily disrupted.
We have undertaken a preliminary examination into the circumstances surrounding this accident. Having assessed the evidence which has been gathered to date, we have decided to publish a safety digest.
The safety digest will be made available on our website in the next few weeks.
Published 17 January 2019