News story
Derailment at Carpenters Road North Junction
Derailment at of a freight wagon around Carpenters Road North Junction, East London, 11 June 2019.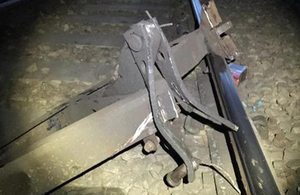 At around 19:15 hrs on 11 June 2019, an empty wagon in a freight train derailed at Carpenters Road North Junction and re-railed around 400 metres further on, while travelling at approximately 15 mph (24 km/h). The wagon derailed because one of its wheels ran over a substantial part of brake equipment that had become detached earlier at Channelsea Junction, and fallen from the underside of the wagon. The derailed wagon damaged signalling equipment, the track and a pair of its own wheels.
We have undertaken a preliminary examination into the circumstances surrounding this incident. Having assessed the evidence which has been gathered to date, we have decided to publish a safety digest.
The safety digest will be made available on our website in the next few weeks.
Published 9 July 2019