Deputy Prime Minister's statement on the House of Lords Reform Bill
The Deputy Prime Minister confirmed that the government does not intend to proceed with Lords reform in this parliament.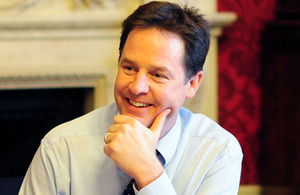 Check against delivery.
I support an elected House of Lords because I believe that those who make the laws of the land should be elected by those who have to obey the laws of the land.
That is democracy - and it is what people rightly expect from their politics in the 21st Century.
 
I knew that creating a democratic Lords would not be straightforward. This cause has long been blocked by an establishment resistant to change, and by the vested interests who benefit from maintaining the power of political patronage while keeping the power of people out.
 
However, Lords reform was in each party's manifesto.
It was written into the Coalition Agreement - without argument or controversy.
And I had hoped that, with enough compromise and cross-party involvement, we could build a consensus, delivering it once and for all.
 
After the election I convened cross-party talks. The Government then published a draft bill and white paper, with a clear commitment from myself and the Prime Minister to hold the first elections to the Lords in 2015.
We then established a joint committee, of both Houses, to scrutinise our proposals.
We amended the Bill once the Joint Committee reported - taking on the majority of their changes.
And, last month, in a historic vote, an overwhelming majority of MPs backed an elected House of Lords during the Bill's second reading.
 
[Party political content removed]
At that point, the Prime Minister said he needed more time, over the summer, to persuade his MPs and I, of course, agreed to that reasonable request.
Unfortunately, the PM has confirmed to me, since then, that an insufficient number of his MPs have been persuaded to support the Bill.
[Party political content removed]
So, after a long process - almost two and a half years - we do not have the Commons majority needed to ensure this Bill progresses through Parliament.
It is obvious that the Bill's opponents would now seek to inflict on it a slow death, ensuring Lords reform consumes an unacceptable amount of parliamentary time.
Clearly, it would be wrong for me to allow Parliament to be manipulated in this way, not least at a time when there is so much else for us to concentrate on.
So I can confirm today that we do not intend to proceed with the Bill in this parliament. The government will make a full statement on this to Parliament as soon as it returns in September.
To modernisers and campaigners, let me say this: I am as disappointed as you that we have not delivered an elected Lords this time around. But Lords Reform has always been a case of two steps forward, one step back.
And my hope is that we will return to it in the next Parliament, emboldened by the overwhelming vote in favour of our Bill at second reading.
An unelected House of Lords flies in the face of democratic principles and public opinion.
It makes a mockery of our claim to be the mother of all democracies.
And - even if you put all of that to one side - the ever increasing size of the Lords makes it an unsustainable chamber.
It cannot keep growing; reform cannot be forever ducked.
 
As you know, an elected House of Lords was part of the Coalition Agreement, a fundamental part of the contract that keeps the coalition parties working together in the national interest.
A contract not just to each other, but a set of commitments we have made, collectively, to the British people.
[Party political content removed]
So we must now restore balance to the Coalition Agreement, allowing us to draw a line under these events and get on with the rest of our Programme for Government.
 
[Party political content removed]
I remain focused on the urgent task that brought the Coalition together rescuing, repairing and rebalancing our economy.
And, just as we are determined that this Government delivers economic reform, we are determined to deliver social renewal too.
There are many things that brought me into politics.
[Party political content removed]
Political reform is one. A fairer tax system is another. Internationalism. The environment. Civil liberties.
But the thing I care about most [party political content removed] Is to build a fairer society.
A more socially mobile society, where a person's opportunities do not depend on the circumstances of their birth, where every individual has the chance to flourish.
We will continue with that critical work.
We will continue to anchor this government firmly in the centre ground.
Published 6 August 2012