Deputy Prime Minister will announce the UK global efforts to combat malaria
The UK will help halve the number of deaths caused by malaria in at least ten African countries by 2015, Deputy Prime Minister Nick Clegg will announce today.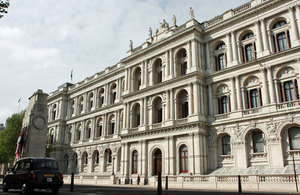 The pledge, to be made at the UN Millennium Development Goals (MDGs) Summit in New York, will be coupled with an increased focus on boosting malaria prevention and treatment across the developing world by the Department for International Development (DFID).
As part of this boost, UK aid will save 5,500 children's lives in Zambia by increasing access to malaria prevention, diagnostics and treatment. In Ghana the UK will supply 2.4 million new insecticide-treated bednets, enough to save 13,000 lives a year.
As part of his closing plenary speech to the UN, Nick Clegg, Deputy Prime Minister, will say:
"I am pleased to announce today that the UK will be stepping up our efforts to combat malaria.
"In Africa, a child dies from this disease - this easily preventable disease - every 45 seconds. So we will make more money available, and ensure that we get more for our money, with the aim of halving malaria-related deaths in ten of the worst affected countries."
The new UK commitment will be backed by an increase in funding to as much as £500 million per year by 2014 from current spending of about £150 million. The precise figure, countries and programmes to which it will be allocated will be decided as part of the ongoing review of all DFID's country programmes.
Chancellor George Osborne, speaking about the announcement, said:
"Since visiting the Millennium Development Village of Ruhiira, Uganda, in 2007, with Professor Jeffrey Sachs, and witnessing this terrible disease at first hand, I have been determined to do all I could to help the battle against malaria.
"I made the pledge then, that when we formed a government we would increase spending on malaria.
"Today we have honoured that pledge."
Malaria is not only a consequence but a cause of poverty, costing African economies $12 billion a year in health care spending and as much as 1.3% of GDP every year in lost income in the worst affected countries.
Andrew Mitchell, International Development Secretary, said:
"Tackling malaria will mean that millions of people, and especially children, will be saved from its crippling effects, enabling them to work, feed their families and send their children to school.
"Combating this disease is also one of the best investments money can buy - as little as £2 a year can be enough to save a child's life.
"I will now be looking at all DFID's programmes to see how we can build the prevention and treatment of malaria into everything we do."
The new UK effort on malaria will also tackle the emerging problem of drug resistance. The emergence and spread of resistance to artemisinin threatens to make the best available anti-malaria drug ineffective. The UK will support international efforts to halt the marketing and use of artemisinin monotherapy, helping to contain the spread of drug resistance.
DFID is currently designing a new Business Plan for Malaria, consulting widely and reviewing all its programmes to identify how to have a greater impact on reducing the incidence and effects of malaria. It will do this by:
Improving quality of services: ensuring health systems are of the highest possible quality to save lives.
Increasing access and building demand: removing barriers that prevent people from seeking care.
Taking advantage of new innovations: containing resistance and supporting the development of new cost effective drugs, prevention and diagnostic tools.
Focusing on impact and results: targeting those who are most in need with interventions that are proven to work.
Published 22 September 2010