News story
Deputy Prime Minister welcomes debate on succession laws
The Succession to the Crown Bill receives its Second Reading in the House of Commons today.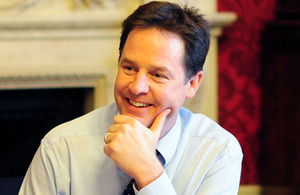 The debate will be opened by the Deputy Prime Minister.
Ahead of the debate, Nick Clegg said:
On Tuesday, Parliament will debate changes to the UK's succession laws - the rules surrounding who will be King or Queen after Prince William.

The reforms couldn't be more timely, given the fantastic news that the Duke and Duchess of Cambridge are expecting a baby. The other Commonwealth countries where Her Majesty The Queen is head of state have just given us the green light to change the law, and we are wasting no time.

At the moment, if the first child of the Duke and Duchess of Cambridge is a girl, any younger brothers she has will overtake her in line to the throne. We're modernising these out of date rules so that men and women in line to the Throne have equal rights.

The current law also says that our monarch can't be married to a catholic. This legal ban doesn't apply to any other faith - not Muslims, Jews, Hindus, nor to atheists. Just Roman Catholics.

The reasons for this go back 300 years, to the days when Britain was worried about the threat from its Catholics neighbours, such as Louis XIV of France.

Times have changed, along with our attitudes towards each other. It is time for us to bring these arcane laws up to date.
Published 22 January 2013