Deputy Prime Minister visits troops in Afghanistan
The Deputy Prime Minister Nick Clegg has visited UK troops serving in Helmand province as part of a two-day visit to the region.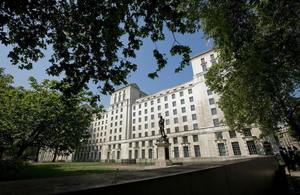 In his first visit since taking up the role of Deputy Prime Minister, Mr Clegg thanked troops and civilian staff based in Helmand province for their dedication and their work towards developing a more capable and self-sufficient Afghan National Army and Police Force.
At the Helmand Police Training Centre in Lashkar Gah, Mr Clegg spoke to civilian trainers and watched Afghan police cadets on a firing range, communicating by radio and learning search techniques at a checkpoint, and dealing with suspects in a police station setting.
The centre is running eight-week basic training courses, non-commissioned officer courses for strengthening police middle management, and female police training - currently turning out over 150 recruits in total per course.
The Deputy Prime Minister also visited Nad 'Ali district where he met troops in the forward operating bases and saw the improvements their presence has brought to the area.
The District Governor of Nad 'Ali showed Mr Clegg how the area had benefited from newly-opened schools, a clinic and a lively market place, a step-change from the insecurity of 18 months ago.
Governor Mangal of Helmand province thanked Mr Clegg for the UK's continued contribution to supporting his efforts to bring stability and security to Helmand province during a traditional 'shura-style' meeting in Lashkar Gah, the Helmand provincial capital.
The Deputy Prime Minister went on to meet President Karzai in Kabul, sharing a traditional iftar meal to mark the end of a day's fasting for Afghans, including the President, during Ramadan.
Mr Clegg said:
I continue to be humbled by the dedication of the brave men and women of the UK Armed Forces, their international and Afghan partners, and their civilian counterparts. Helmand is of course one of the most challenging environments in Afghanistan.
However, my visit has reaffirmed my belief that, under the direction of an extremely capable Governor supported by some of the most dedicated UK personnel, including those training the Afghan police and army, we are making definite and signficant progress on the ground.
Published 1 September 2010