Deputy Prime Minister visits Mexico and the United States
High-level delegation includes UK education and business leaders.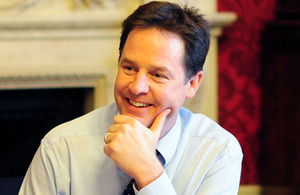 Deputy Prime Minister Nick Clegg today embarks on a two-day visit to Mexico, the most senior British government minister to visit on bilateral business for more than a decade.  He will then travel to Washington DC for talks with Vice President Biden.
The Deputy Prime Minister is accompanied by Universities and Science Minister David Willetts, Foreign Office Minister Jeremy Browne and a high-level delegation of business leaders representing a range of sectors including financial services, energy, construction, consultancy, health care and consumer goods. 
The delegation also includes representatives from the Universities of Aberdeen, Southampton, Sheffield and Strathclyde.  
During his visit to Mexico, the Deputy Prime Minister will meet President Calderon, promote British business and educational links, and deliver a keynote foreign policy speech focusing on strengthening multilateralism and recent events in Libya and North Africa.
In Washington DC the Deputy Prime Minister will meet Vice President Biden to advance US-UK cooperation on Libya and the wider Middle East following the London Libya Conference on 29 March.
Speaking ahead of his departure for Mexico, Deputy Prime Minister Nick Clegg said:
My visit to Mexico marks the beginning of a major push in 2011 to renew UK ties to Latin America. This is a commitment from the whole of the British Government, supported by British business and education leaders.  I will be travelling with top business representatives in order to take the first step towards maximising our trade and investment relations and to contribute to the continuing growth of the UK economy.
There is no doubt that there is a huge amount of unrealised potential for further trade between Britain and Mexico. With our world-class expertise in green technology and financial services, the UK is a good fit for Mexico's future economic development.
Our two countries are also natural partners on the global stage, cooperating closely on climate change, the G20 and in the UN. I am looking forward to discussing the full range of international issues, including developments in the Middle East, during my visit.
Notes to editors
Nick Clegg will be in Mexico from Monday 28 - Wednesday 30 March and in Washington DC on Wednesday 30 March.
For further information about his programme please contact the Cabinet Office Press Office on 0207 276 0432.
The Mexico visit will feature a number of trade, cultural and educational agreements. Highlights include:
Trade and Investment
A commitment to double bilateral trade in goods and services by 2015 to at least £4.2bn. The UK has been on average the fifth largest investor in Mexico over the past decade.
Launch and first meeting of a new UK-Mexico Business Leaders Forum to be chaired by Sandy Flockhart, Chairman of HSBC Bank Plc. The forum will include top-level businessmen and entrepreneurs to promote awareness of markets, increase contacts, and lead to greater bilateral trade and investment flows. They will advise the two Governments on barriers to trade and how to encourage businesses to explore opportunities.
The creation of the Mexican Chamber of Commerce in London from 1 April 2011. The Chamber aims to boost and facilitate trade and investment through networking, sharing information, collectively representing views to governments and organising trade missions. A Mexican Chamber of Commerce in London responds to the increased presence of Mexican businesses in the UK and the growing interest of Mexican investors and exporters of doing business with the UK.  2011 is the 90th anniversary of the British Chamber of Commerce in Mexico.
A Mexican infrastructure seminar will be held in London in June 2011 attended by around 50 UK companies. The seminar aims to showcase the projects being developed under Mexico's National Infrastructure Programme, worth £140bn over five years, mainly in transport, energy, housing and water projects.
Energy
Green Fuels Ltd, a manufacturer of bio diesel production equipment, will announce the construction of a new plant in Chiapas worth $600,000 building on the success of a unit inaugurated by President Calderon in December last year and sponsored by the Mexican Agriculture Ministry, SAGARPA.
Invensys are expanding in Mexico with a new engineering excellence centre in San Luis Potosi state. The centre will develop solutions for companies in the oil & gas, petrochemicals and energy and power sectors as well as metal, mining and paper. Invensys are also expanding plants in Mexicali, Nuevo Laredo and Matamoros, investing US$43 million and are increasing their manufacturing capabilities in Reynosa with a US$3.9m investment.
Healthcare
BUPA are opening two new offices in Guadalajara and Monterrey, strengthening infrastructure and doubling their customer base in Mexico to more than 18,000, and nearly doubling BUPA Mexico's revenue from $28 to $55m by the end of 2012.
Climate Change
Renewal of MoU on sustainable and Low carbon development and the announcement of the UK capacity-building project. Future areas of cooperation in the MoU include building domestic capacity in Mexico, working to promote 'Green growth', climate finance and monitoring, reporting and verification of emissions.
Prince of Wales Corporate Leaders Group - Climate leaders' business meeting and creation of Mexican chapter of corporate leaders group bringing together the Mexican Group to discuss climate change and seek agreement for the launch of a Mexican chapter of the group.
Civil Society Links
Announcement of an annual civil society dialogue within the framework of the British Council-Hay Festival partnership in Xalapa.
Education
Announcement of Sheffield University advanced manufacturing research centre in Mexico. The centre in Sheffield has attracted investment from top industry leaders such as Boeing, Rolls Royce, Mitsubishi, Nikon and Volvo. The new project in Mexico opens possibilities for technology transfer, new research collaboration projects and joint investment. The centre will also provide companies in Mexico with world leading research and technology, particularly in automotive manufacturing.
Memorandum of Understanding between the University of Southampton and the National Autonomous University of Mexico (UNAM) to enable collaborative research projects specifically in English Language Teaching, Ocean and Earth Sciences, Mathematics, Chemistry and Physics in engineering, science, social science and health. The MOU will strengthen links with researchers and make it easier to carry out collaborative research.
The British Museum is sending a major touring exhibition 'The Body Beautiful in Ancient Greece' to the Museo Nacional de Anthropologia in Mexico City from November 2011 to January 2012. This continues the close relationship between the British Museum and the Instituto Nacional de Antropologia e Historia (INAH), and follows the 'Moctezuma: Aztec Ruler' exhibition at the British Museum in 2009/10, and attracted over 200,000 paying visitors.
Increased UK-Mexican security co-operation
A commitment to strengthen bilateral cooperation in the fight against drugs and crime including sharing experience of combating official document fraud and developing police investigation techniques.
Published 29 March 2011