Press release
Deputy Prime Minister visits Brazil
Deputy Prime Minister Nick Clegg has embarked on a two day visit to Brazil.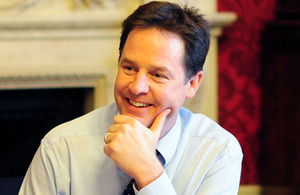 The Deputy Prime Minister is leading the most senior British government visit to Brazil since the Coalition Government took office.
This visit builds on the growing links between the UK and Brazil and will focus on four key areas including, trade and investment, science and technology, education, sport and the green economy.
In a speech in Sao Paulo at the start of his visit, Mr Clegg said:
There remains great potential for Brazil and the UK to do more.

That's why I'm here.

As part of a new and lasting period of engagement between our great nations. Modern nations. Reforming nations. Nations that do not look at the world as it once was, but who see it for what it is today, what it will be tomorrow.

And who understand that, on all of our big challenges - tackling global warming, setting the world on a path of sustainable growth, eliminating poverty and disease, fighting terrorism and organised crime - on all of them we are stronger together than we are apart.
The Deputy PM is accompanied by Jeremy Hunt, Secretary of State for Culture, Olympics, Media and Sport; David Willets, Minister of State for Universities and Science; Lord Green, Minister of State for Trade and Investment; and Jeremy Browne, Minister of State for the Foreign and Commonwealth Office.
British business leaders from sectors such as energy, oil and gas, biotechnology, construction and financial services will also be part of the delegation, as well as representatives of 12 educational institutions including King's College London, Manchester University, and Aberdeen University.
Ahead of his visit, Mr Clegg said:
This visit shows the UK's determination to renew this vital partnership. The size and nature of my delegation reflects the importance we attach to our relationship with Brazil.

I strongly believe that the UK and Brazil have a great deal in common: as democracies, as champions of human rights, in our commitment to development and green growth, and as proud hosts of the Olympic and a Paralympic Games.
Speeches and transcripts: Deputy PM's speech in Sao Paolo
Read more: British Embassy in Brazil
Published 21 June 2011