Deputy Prime Minister to host visit of Chinese Vice-Premier Li Keqiang
Deputy Prime Minister Nick Clegg will officially host Deputy Chinese Vice-Premier Li Keqiang when he visits the UK this month.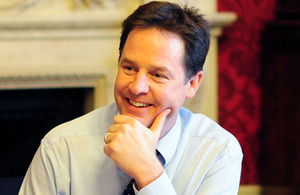 They will have substantive bilateral talks at Lancaster House during Vice-Premier Li's visit from 9 to 12 January.
During his stay, Vice-Premier Li will meet Prime Minister David Cameron, Foreign Secretary William Hague, Chancellor George Osborne, Business Secretary Vince Cable, Energy and Climate Change Secretary Chris Huhne, Scottish Secretary Michael Moore and First Minister Alex Salmond.
He will also speak at a China British Business Council event attended by top UK and Chinese businessmen, and make visits to Pelamis Wave Power in Edinburgh and the BRE Innovation Park in Watford.
Speaking ahead of the visit, Mr Clegg said: 
It is a pleasure to welcome Vice-Premier Li to the UK. His visit comes just two months after the Prime Minister lead the largest ever UK Ministerial delegation to China, highlighting the deepening relations between our two countries.
I see the UK and China as partners for growth. Our economies are becoming increasingly complementary, with UK companies ideally placed to contribute to China's future economic development. They have the goods and services, experience and skills to match China's ambition to restructure.
I, along with my colleagues across Government, look forward to discussing the full range of our interests during Vice-Premier Li's visit - everything from trade and investment to climate change and educational links. No subject will be off limits.
The Prime Minister said: 
Stronger relations with China offer a real opportunity for Britain in terms of trade, jobs, and economic growth. Vice-Premier Li's visit to the UK will build on the momentum created by my visit to China last year.
I look forward to welcoming the Vice-Premier to Downing Street on Monday.
Published 10 January 2011