Deputy Prime Minister promotes TA soldier in Helmand
Deputy Prime Minister Nick Clegg surprised Private Catherine Graham during his visit to Afghanistan this week when he promoted her to Lance Corporal.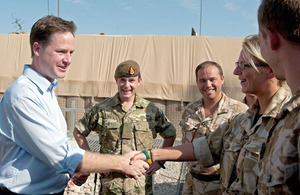 The Deputy Prime Minister's official visit to Combined Force Nad 'Ali coincided with Lance Corporal Graham's promotion date, and her senior officers felt it was right that Mr Clegg was the one to present her with her new rank slide.
Lance Corporal Graham said:
I was a bit shocked when he said my name. I thought how does he know my name? I was incredibly proud and will never forget being promoted by the Deputy Prime Minister.
Lance Corporal Graham, aged 28, from St Anne's near Blackpool, is a TA soldier with 4th Battalion The Duke of Lancaster's Regiment who are currently deployed with 1st Battalion The Duke of Lancaster's Regiment in southern Helmand province, Afghanistan. In her civilian life she works as a financial administrator in Manchester.
She has been in the Army for four years and this is her first operational tour. Her role in the battalion is to give clerical support to the battle group.
When asked about her tour so far she said:
I've actually enjoyed it and it's been a real experience; I've met some of the nicest people during this tour.
The battle group is due to return from their operational tour next month. Before she deployed, Lance Corporal Graham and her boyfriend Christopher Little got engaged. Christopher has previously served with the Royal Green Jackets so understands the operational commitments.
They are planning to marry in September next year in Longridge near Preston:
I'm very excited, as soon as I'm home we're going to be planning the wedding. I'm really looking forward to looking at dresses and evening venues!
Published 2 September 2010