Deputy Prime Minister on NHS reform
Deputy Prime Minister Nick Clegg delivered a speech on the future of the NHS at University College London Hospital today.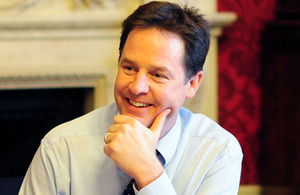 The Deputy Prime Minister said that while reform of the NHS is required there will not be "change for change's sake".
Nick Clegg said that the detail of the reforms will be announced once the current listening exercise has concluded, but stressed that that the right kind of reform starts from the patients' point of view.
Not bureaucrats, not unions, not Ministers, not political parties - patients.
Mr Clegg said that a changing demographic and the increased costs of treatment are putting extra pressures on the NHS.
The Coalition is protecting NHS funding but, even with that protection, our health services face huge financial and demographic pressures in the future.

And unless we change the way we do things now, to get the most out of every pound we spend, we are setting the NHS up for a fall.

So the world is changing, and the NHS needs to change with it.
The DPM said that the Government will reform health services, creating an NHS that lives within its means but still provides the best care possible.
The Government's NHS listening exercise is due to conclude at the end of May 2011.
Read the full text of the Deputy Prime Minister's speech on the NHS
Published 26 May 2011