Deputy Prime Minister Nick Clegg meets Mexican President Felipe Calderón
UK Deputy Prime Minister Clegg and President Calderón underlined their wish to see increased cooperation in the fields of trade, investment, science, technology and education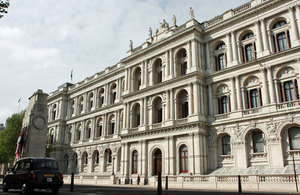 The visit to Mexico by Deputy Prime Minister Nicholas Clegg is a signal of the close state of relations between Mexico and the United Kingdom. These are built on the basis of shared values, such as democracy, the rule of law, promotion of economic growth and prosperity, the fight against organised crime and climate change, as well as recognition of the links between development, peace, security and human rights. Today's visit, following on from President Calderon's State Visit to the UK in 2009, is a valuable opportunity to reinvigorate co-operation and build a natural partnership across a much wider range of areas.
At a working breakfast, President Calderon and Deputy Prime Minister Clegg underlined their wish to see increased cooperation in the fields of trade, investment, science, technology and education. Both recognised the important links between economic stability, development and investment, as well as the need for continued economic reform to achieve sustained development. They welcomed the 30% increase in bilateral trade in goods between 2009 and 2010, and the strengthened contacts between business leaders from both countries. They also agreed to work towards doubling bilateral trade by 2015.
They agreed on the need to make multilateral institutions more representative, transparent and efficient. Both welcomed the close cooperation between our two countries in international fora, such as the G20 and the UN system, including the Human Rights Council. They agreed on the need for further close collaboration on the issues of sustainable development, climate change and energy.
President Calderon and Deputy Prime Minister Clegg reaffirmed the commitment of Mexico and the United Kingdom to co-operate on the promotion of international security and stability, international humanitarian law and the protection of citizens. Both welcomed the willingness of the international community to ensure the protection of the people of Libya, as set out in the United Nations Security Council Resolutions 1970 and 1973.
The British Deputy Prime Minister welcomed Mexico's Presidency of the G20 next year. Both committed to work closely together towards achieving the G20's goal of reaching strong, sustainable and balanced global growth, and the reform of the global financial and economic system. They agreed to continue working on green growth initiatives and towards a successful conclusion of the Doha Round negotiations in 2011, which both countries believe is more important than ever.
President Calderon and Deputy Prime Minister Clegg reiterated their commitment to fighting poverty and exclusion; achieving the Millennium Development Goals; their shared responsibility in the fight against transnational organised crime, including strengthening cooperation on e-crime ; the promotion of international peace and security, and greater educational, cultural and tourist exchanges.
President Calderon and Deputy Prime Minister Clegg both welcomed the launching of the British Council in Mexico as a self-standing social enterprise, which will lead to increased engagement in areas such as English language training, education and the arts. Last week's visit to the United Kingdom of Minister Alonso Lujambio and this week's visit from Deputy Prime Minister Clegg have led to important outcomes for developing further collaboration to improve economic competitiveness and development through education and research.
President Calderon and Deputy Prime Minister Clegg agreed that adoption of the Cancun Agreements was a key step forward in the development and consolidation of the United Nations' climate regime. They expressed their determination to pursue their implementation and to work for progress in the international negotiations consistent with the goal of limiting global temperature increases to two degrees celsius, as well as actions at home, using both countries' leadership to pursue a low carbon economy.
To this end, they welcomed the Memorandum of Understanding for Securing a Sustainable and Low Carbon Development to be signed today by the Mexican Secretary of Environment and Natural Resources, Juan Rafael Elvira and Deputy Prime Minister Clegg, covering co-operation at both the national and local levels to increase further this partnership. They stressed the need to maintain cooperation with climate stakeholders such as parliamentarians, civil society organizations and the private sector.
President Calderon and Deputy Prime Minister Clegg agreed on the importance of maintaining frequent bilateral contact, to expand and deepen bilateral relations further. They agreed that Mr. Clegg's visit to Mexico opened up new opportunities for cooperation between both countries and governments, and they look forward to a visit of Prime Minister David Cameron to Mexico.
Published 29 March 2011