Deputy Prime Minister: more freedom for parents
Deputy Prime Minister Nick Clegg has outlined plans to give couples more freedom to organise their parental leave after the birth of a baby.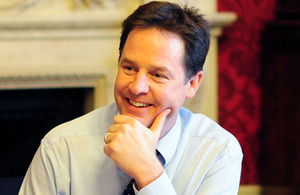 Launch of The Home Front report
The Deputy Prime Minister confirmed that from April fathers will be able to take any unused maternity leave themselves if their partners go back to work early, as well as announcing plans to consult on further reforms to the current system of parental leave.
Speaking at the launch of think tank Demos' new report The Home Front in London, Nick Clegg said that he and the Prime Minister wanted a new system of shared parental leave in place by 2015.
Deputy PM Nick Clegg said:
Too many parents feel trapped by the current, rigid rules. We want to give them the flexibility that sets them free. 

This is not an easy area for Government, but the Coalition Government will seek to get the balance right. Supporting and empowering parents, particularly those most in need, and particularly in these difficult times. And helping all parents better balance work and home.
The Deputy PM emphasised the new system would be one that would take into account the needs of employers as well as parents, adding: 
We need to work with business to make absolutely sure that, from their point of view, the new system is sustainable and affordable. And that, ultimately, leaves British companies benefitting from a happier, more productive workforce.
Published 17 January 2011