Deputy Prime Minister meets Aung San Suu Kyi
The Deputy Prime Minister and Aung San Suu Kyi met this morning and discussed political reform in Burma.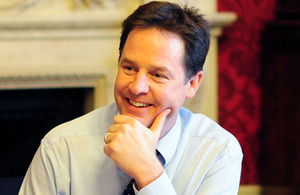 Also discussed was the importance of keeping people in Burma engaged with the political process, ways in which the British Government could support reform, and ethnic tensions within Burma.
They discussed in particular the work of the British Council and the Westminster Foundation in supporting the development of prospective political leaders and exchanged ideas about the different political traditions within the UK and the development of democracy in Burma.
Deputy Prime Minister Nick Clegg said:
It was a great honour to meet Daw Aung San Suu Kyi this morning.  She is an inspirational figure who, despite many years of suffering at the hands of the military junta, maintains a positive outlook and a gentle but firm determination to complete the process of reform and lead her people towards a more open, democratic future based on universal human rights and liberal values.
Published 26 June 2012