Deputy Prime Minister launches free school meals
From today (2 September 2014), every single child in the first 3 years of school will be eligible for a free school lunch.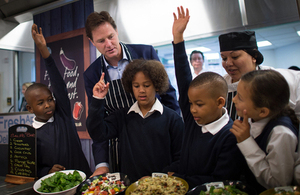 This follows an announcement made by the Deputy Prime Minister last year to help every child from every background get the best possible start in life.
The move means that 1.89 million children in reception, year 1 and year 2 at 16,500 schools will be able to eat a free, nutritious meal at lunchtime, saving families up to £400 per year and helping children to do better in the classroom and improve their daily diet.
Results from pilot studies showed that where children were given free school meals they were found to be up to 2 months ahead of their peers elsewhere in maths and English. They were also more likely to eat vegetables, rather than unhealthy snacks like crisps.
Deputy Prime Minister Nick Clegg said:
I've made it a personal priority to give all infant children free school meals so I'm delighted that we are seeing this being rolled out across the country from the start of this school year.

All the evidence, including the pilots in Durham and Newham, shows that free school meals will not only help ease the pressure on household budgets and encourage positive eating, but will also help improve concentration and raise educational performance so that, regardless of their background, every child can have the best possible start in life.

This is one of most progressive changes to our school system for a long time so there'll always be critics but that won't cloud my goal to create a level playing field for all of our children so their success will be determined by their talents and efforts alone and not by their parents' bank balance.
The government has provided over £1 billion to meet the costs of the meals over the next 2 years and has also made £150 million of capital available to schools and local authorities to help them build new kitchens or increase dining capacity where necessary. A further £22.5 million has been provided specifically to help smaller schools provide free school meals and a dedicated support service has also been set up to offer advice and help.
Schools Minister David Laws said:
Today, our goal to offer every infant child a healthy, tasty school meal has become a reality – a move that will put money back in parents' pockets while ensuring all children get the best possible start in life.

The evidence is clear. Providing children with nutritious and delicious meals gives them the fuel they need to excel both inside and outside the classroom, while making them more likely to opt for fruit and vegetables at lunchtime rather than junk food such as crisps.

Schools across the country have done a truly fantastic job in preparing for this important milestone, supported by over £1 billion of government funding over the next 2 years. Together, we will make sure that this landmark achievement delivers for pupils' health, their attainment, and for their hard-working families.
The School Food Plan
Universal free school meals for primary school pupils was a key recommendation in a review of school food produced independently for the Department for Education. The School Food Plan, published by Henry Dimbleby and John Vincent in July 2013, recommended that government embark on a phased roll out of free school meals for all children in all primary schools.
The School Food Plan presented evidence that this would lead to positive improvements in health, attainment and social cohesion, and help families with the cost of living, since:
the average school meal costs £437 per child per year
many children on low incomes are not eligible for free school meals – approximately 4 in 10 children living in poverty
Attainment (in pilot areas)
the students were found to be on average 2 months ahead of their peers elsewhere
around 2% more children reached target levels in maths and English at Key Stage 1; while at Key Stage 2 the impact on achievement of between 3% and 5% was a bigger improvement than the 3.6% boost that followed the introduction of a compulsory literacy hour in 1998
academic improvements were most marked among children from less affluent families
Health (in pilot areas):
There is a real need to address health problems that are linked to a poor diet – almost 20% of children are obese by the time they leave primary school. We need to address this problem from a very young age: evidence clearly shows that childhood eating habits stay with you for life.
A common misconception is that a packed lunch is healthier than a school meal. In fact only 1% of packed lunches meet the nutritional standards that currently apply to school food. Pilots in Newham and Durham showed a 23% increase in the number of children eating vegetables at lunch and an 18% drop in crisps.
Easing the pressure on household budgets
Extending free school meals to all infant school pupils will help ease the pressure on family budgets. On average, school meals cost £437 per year, meaning a significant saving to parents.
Universal provision for all infant children will also ensure that those on low incomes but not eligible for free school meals receive a hot meal – there are around 700,000 children (from all age groups) living in poverty who are not eligible for free school meals.
Better for all children
Research from the pilots indicates that the provision of free school meals to all children helped to create a sense of cohesion within the school. There are a number of ways in which free schools meals for all could contribute to this:
it would remove concerns of stigmatisation of children who receive free school meals because of their parents' financial situation – research has shown that some children do not currently claim a free lunch because of teasing, bullying or fear of stigma
a nutritious lunch improves concentration, which in turn has a positive impact on classroom behaviour
it changes the culture of a division between those children who eat a packed lunch separately from those eating a school meal
Research and documents
About the pilot studies
The report on the pilot studies presents evidence on the impact of the Free School Meals pilot on a range of pupil outcomes. The pilot was a 2-year programme operating in 3 local authorities (Wolverhampton, Durham and Newham) between autumn 2009 and summer 2011.
Published 2 September 2014