Deputy Prime Minister launches engagement with Africa ahead of G8
Nick Clegg will visit sub-Saharan Africa for the first time as Deputy Prime Minister, on a trip to Ethiopia and Mozambique this week.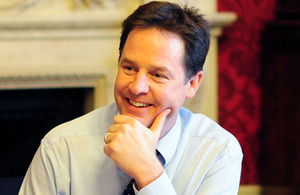 The visits are part of the UK's engagement with Africa to focus on the objectives for our G8 presidency this year.
The UK's presidency of the G8 will focus on tax, trade and transparency. The Deputy Prime Minister will hear from political and business leaders in Ethiopia and Mozambique about how G8-led action can make a real difference to African nations. In particular, how to ensure the wealth created by developing countries is not lost through unfair tax practices, a lack of transparency or failure to secure the benefits of trade for developing countries.
Nick Clegg, Deputy Prime Minister, said:
Many of the difficulties that governments face in the developing world are becoming increasingly common in the developed world. For too long, the developed world ignored the way in which tax revenues, which rightfully belonged to developing countries, disappeared as people exploited different tax regimes, and made a mockery of governments in the developing world. We must work together to overcome it.

To disrupt the vicious cycle of inequity in the systems of tax and trade, we must first create a level playing field whereby responsible and thriving companies are attracted to trade and do business in a fair and transparent way.

As the UK will meet its promise to spend 0.7 per cent of GNI on international aid in 2013, it is vital that the benefits of aid are not wiped out by losses sustained by multi-nationals or individuals gaming countries' tax systems.
Accompanied by International Development Minister Lynne Featherstone, the Deputy Prime Minister will meet leaders from the African Union and ambassadors from across Africa, UK companies doing business in Mozambique and Ethiopia and local companies. They will meet President Armando Guebuza in Mozambique and Prime Minister Hailemariam Desalegn in Ethiopia. The business delegation taking part in events on the visit comprises business leaders from UK companies operating in Africa and African companies trading with the UK.
Lynne Featherstone, International Development Minister, said:
In the year that we chair the G8, it is right that we use our aid and expertise to boost tax revenues in the poorest countries and help them to stand on their own two feet. Helping developing countries to collect taxes means they can improve their own public services such as health and education. It also helps attract the investment and trade they need to grow and develop.
Bilateral trade between the UK and Mozambique and the UK and Ethiopia is booming. UK exports of goods to Mozambique nearly doubled comparing January to November 2012 with the same period in 2011. UK exports to Ethiopia more than doubled in 2011 compared with 2010.
The G8-Africa partnership has a long history. Over the past decade, we have taken action together to create jobs, increase prosperity and help millions of people escape from poverty. New African entrepreneurs, new African businesses and new African leaders are creating opportunities across the continent which the rest of the world can learn from.
Our G8 agenda will be of direct relevance to Africa, as we now face some of the same challenges. Our emphasis on tax, trade and transparency comes from the devastating effect that a loss of revenue can have, particularly on developing countries. When developing nations lose revenues, their health and education systems are undermined, along with their stability, and that carries a global cost. The UK Government has already done some work in this area, such as through the Department for International Development's Ethiopia flagship governance programme, which has achieved growth in tax collection from 8.2bn birr per year in 2002 to 55bn birr in 2011. In the year of the UK's G8 presidency, the Government is seeking to work with developing countries on tax, trade and transparency.
The Deputy Prime Minister and International Development Minister will be meeting with local businesses that are trading with the UK, UK businesses working in Mozambique or Ethiopia and politicians. They will be talking about how Mozambique and Ethiopia can increase their tax revenues and build a sound business environment for trade, and hear first hand what UK businesses and companies in Mozambique and Ethiopia need to make it easier to do business.
They will also use the visit as an opportunity to see programmes that are a direct result of UK Aid, including:
launching Vodacom's M-Pesa system in Mozambique that allows people to carry out financial transactions using their mobile phones, giving access to banking to millions of people who can currently only trade using cash;
visiting Clean Star, a UK-registered company that works with DfID and produces ethanol from cassava for use on clean cooking stoves - reducing the reliance on dirty charcoal cooking that is linked to poor health including asthma;
visiting a trade fair of local organisations, ranging from firms that work with smallholder farmers such as Moz Foods, which supplies 20 per cent of baby corn sold in UK supermarkets, to a company offering affordable insurance to large numbers of smaller holder farms.
M-Pesa is probably the world's most successful money transfer service. It was first launched in Kenya with the support of the UK's Department for International Development. Financial inclusion is a major issue in Mozambique, and only 12 per cent of the adult population have bank accounts. M-Pesa is an example of the private sector, with public sector support, supplying an innovative solution to increase access to financial services. During their visit, Nick Clegg and Lynne Featherstone will visit a stall in Mozambique which will act as an outlet for M-Pesa.
Clean Star is a company that purchases cassava from smallholder growers and converts it into ethanol gel that can be used in stoves as a cleaner and more sustainable source of fuel, and into flour that can be traded on national markets. As well as producing the ethanol, they have worked with research institutes to identify varieties of cassava that exhibit tolerance to a severe yield-depressing disease that is prevalent in Mozambique.
Published 13 February 2013