News story
Deputy Prime Minister: Gbagbo should "go, and go now"
Nick Clegg last night met His Excellency President Blaise Campaore of Burkina Faso and discussed the ongoing political crisis in Cote d'Ivoire.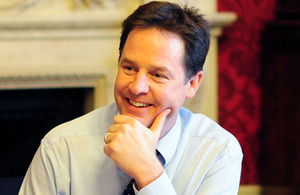 The President is visiting London and Paris on behalf of the Economic Community of West African States (ECOWAS).
Following the meeting, the Deputy PM said:
I was delighted to meet President Campaore, who has been playing a leading role in trying to resolve the post-election crisis in Cote D'Ivoire. I set out the clear position of the British Government that former President Gbagbo, having lost the election, should go, and go now. 

The people of Cote d'Ivoire have made their choice, confirmed by the electoral commission and the UN, and that choice must be respected.   West African leaders, including President Campaore, have made clear that they too wish to see a peaceful and swift transfer of power, and I welcome their firm stance on this issue.
 President Campoare also met Henry Bellingham, Minister for Africa, earlier in the day. Mr Bellingham said:
I was pleased to meet the ECOWAS delegation today, headed by President Campaore, to discuss the political impasse in Cote d'Ivoire. I commended the President for ECOWAS's efforts, and reiterated the Government's support for the robust stance taken by ECOWAS and the African Union, in upholding democracy in the region and throughout the continent.
Published 17 January 2011