Deputy Prime Minister extends funding to tackle hate crime against Muslims
The Deputy Prime Minister today announced further government funding to tackle what he has branded "vile attacks" against Muslims.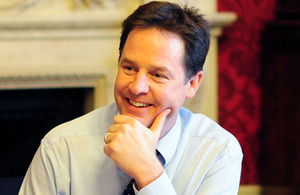 Nick Clegg announced the new funding for the successful Monitoring Anti-Muslim Attacks (MAMA) project as he hosted a town hall event for Muslims in Manchester alongside Minister for Faith and Communities Baroness Warsi and Communities Minister Don Foster. 
The £214,000 of funding for the scheme will be granted by the Department for Communities and Local Government for a further year, to allow MAMA to continue its work providing data and reports on attacks against Muslims and their neighbourhoods, whether in the street or online. The recording of these incidents will give the police, the Government and the communities involved the knowledge they need to combat hate crime in Britain, as well as giving support to victims where appropriate. 
The cross-government Anti-Muslim Hatred Working Group, which was set up by the Deputy Prime Minister and made up of civil servants, academics and members of the Muslim community, will use the data to inform its research into the reasons behind anti-Muslim crime and what can be done to tackle it. The group has said that its initial focus will be in two areas: examining how to strengthen the data and evidence base surrounding these attacks, and the role of the media in preventing anti-Muslim hatred. The media, community groups, schools, and others can play vital roles in supporting, preventing and tackling some of the problems of marginalisation. 
The Deputy Prime Minister will visit a Muslim cultural centre near Manchester, which has suffered from hate-fuelled vandalism, to hear from the local community about their experiences and how they have joined together to combat the crimes. He will attend an interfaith meeting to hear local concerns, which will include members of the local Muslim, Christian and Jewish communities. 
At a Town Hall event with the Muslim community in Manchester, where a wide variety of issues is expected to be discussed, the Deputy Prime Minister is expected to say: 
Prejudice, religious hatred, racially motivated violence - there is no place for hate crimes in 21st century Britain. And yet far too many people are suffering due to ignorance.

Much progress is being made in tackling this blight on our society, by Government and especially by people of all faiths working hard in our neighbourhoods, but there is much more to be done. I cannot be clearer - the Government will do everything in its power to stamp out vile attacks motivated purely by hatred of one religion or another.

I would like to commend Faith Matters on the Tell MAMA project, and I look forward to seeing more progress as it grows in stature and reputation in the future." 
Fiyaz Mughal of Faith Matters said: 
The Coalition Government has supported work on anti-Muslim prejudice over the last 12 months and remains committed to ensuring that hate against any community is tackled. This commitment has meant that Muslim communities can report in anti-Muslim prejudice through the Tell MAMA project and where victims of such attacks can receive support and where details of the attacks are passed onto police forces so that the victim receives relief and justice in the process. We are also reaching out and engaging with women who are on many occasions, the targets of such anti-Muslim attacks.
Since its inception in February 2012, MAMA has recorded the following anti-Muslim attacks in England: 
470 reports of anti-Muslim hatred, including 181 incidents of abusive behaviour
58 threats to do harm
175  incidents of anti-Muslim literature
22 incidents of desecration of property
24 incidents of assault
10 incidents of extreme violence. 
Tell MAMA was developed by the non-profit Faith Matters, with funding from the Department for Communities and Local Government, to monitor anti-Muslim incidents, improve understanding of such attacks, build confidence in the Muslim community that action will be taken, and to provide police and Citizens Advice with a mechanism to provide support to victims. It has been endorsed by several police forces including the Metropolitan Police, Greater Manchester Police and the British Transport Police. 
Tell MAMA is also working very closely with the Community Security Trust (CST), which tackles hatred against the Jewish community. The CST has advised Tell MAMA on a number of issues including data collection, classification and security. A member of the CST sits on Tell MAMA's advisory group. 
Notes to editors 
Tell MAMA is a project run by the Faith Matters charity to record incidents of anti-Muslim hatred. Anyone concerned about an incident can report it via phone, text, Twitter, email or the website www.tellmamauk.org 
The Government announced initial funding for the project in February.
Published 8 November 2012