Press release
Deputy Prime Minister boosts British business in South Korea
The Deputy Prime Minister will today announce that the UK has approved a hugely significant Free Trade Agreement between the EU and Korea.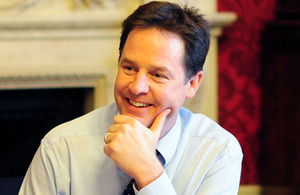 The agreement will bring an estimated £500 million of annual benefits to the UK and create £2 billion of additional export opportunities for UK businesses.
He will deliver the news at a meeting with South Korean Prime Minister Kim Hwang-sik.
The Deputy Prime Minister is flying the British business flag on an intensive visit to South Korea. In addition to talks with the Prime Minister, he will also see South Korean business leaders, UK businesses based there and examples of UK innovation in Korea.
In addition to the landmark Free Trade Agreement, he will also announce a new Host2Host agreement that could offer millions of pounds worth of contracts to UK businesses.
Bilateral trade between the countries is already around £6.5 billion, but the Deputy Prime Minister wants to increase this further. The 'Host2Host' agreement between the UK and Korea will pave the way for British companies to win contracts associated with major sporting events coming soon to Korea.
A wide range of UK business sectors are expected to benefit from the FTA, the Host2Host agreement and from wider cooperation, such as partnering with Korea in energy projects in the Middle East. These include industrial machinery, jet engines, chemicals, low carbon, and pharmaceuticals, architects, civil engineering, as well as financial, legal, consulting, telecommunications and retail services.
It is estimated that UK exporters of industrial goods could save around £75 million in duties per year thanks to the FTA, and the Host2Host Agreement will position UK firms to win millions of pounds' worth of contracts in helping deliver the Asian Games 2014, the World Student Games in 2015 and Pyeongchang Winter Olympics 2018.
The UK is already Korea's second largest European trading partner, with well over half of Korea's investment in the EU in 2010 and 2011 being in the UK.
Deputy Prime Minister, Nick Clegg, said:
I'm delighted to be here in South Korea, and to be able to tell Prime Minister Kim Hwang-sik that we have fully approved the Free Trade Agreement. It underlines the UK's commitment to fostering stronger trade links with the world's fastest growing economies. This FTA alone could add £500 million per year to the UK economy and create £2 billion of additional export opportunities for UK businesses. It marks a new and even stronger era for trade between the UK and South Korea, and will mean more jobs in the UK and a significant boost to our economy.

The best of British design, innovation and services will have even greater opportunity to show their strength in South Korea. UK and Korean companies will be able to form alliances on multi-billion pound projects across the world.
The series of meetings that the Deputy Prime Minister is having in Seoul will strengthen ties between the UK and South Korea for the benefit of UK businesses and jobs. Agreements reached include:
Host2Host Agreement. This will link London 2012 and the Pyeongchang Winter Olympics 2018, opening doors to British companies with expertise in designing and building sporting venues and delivering major sporting events. British companies played a key role in helping Korea win the bid to host the 2018 Winter Olympics and the Host2Host agreement will put UK businesses on track to win millions of pounds worth of contracts associated with putting on the these Games, together with the Asian Games and World Student Games.
Global Green Growth Institute. The UK has agreed to become a founding member of this Korean-led initiative when it makes the transition to become a fully-fledged international organisation later this year. Our work with Korea through GGGI will help developing countries to maintain their natural resources at the same time as strengthening their economies to support the poorest, who are often most dependent on those natural resources. Stronger engagement with other countries in this area could also provide greater commercial prospects for British firms in sustainable low carbon development worldwide.
The Deputy Prime Minister celebrated with Korean industry and the Korean government the partnership that has been forged between British companies and Korea Electric Power Corporation (KEPCO). UK companies have won initial contracts valued at £23 million linked to KEPCO's project to build civil nuclear power plants in Abu Dhabi. Seven UK companies have won work on the project so far: Emirates Nuclear Energy Corporation (AMEC); Atkins; Clyde Union; Weir; Balfour Beatty-Parsons Brickerhoff; Exova; and HR Wallingford.
The Deputy Prime Minister's Seoul visit will also include a meeting with the Chair of the South Korean National Pensions Service, the world's fourth largest pension fund investor, leading the delegation to the Seoul Nuclear Security Summit, and meetings with South Korean ministers, Samsung and other South Korean and British businesses.
Notes to editors
The Deputy Prime Minister is in Seoul for a series of bilateral meetings on trade, as well as to attend the Nuclear Security Summit on Tuesday 27 March.
The GGGI reinforces the UK's strong relationship with Korea on green growth ahead of the Rio+20 Summit on Sustainable Development in June, where the DPM will lead the UK delegation.
South Korea is the world's 12th biggest economy; is one of the OECD's fastest growing members; and has a per capita GDP four times that of China.
The latest IMF World Economic Outlook forecasts that over the next five years, the Korean economy will make the 8th largest contribution to world growth, greater than France, Germany, and Mexico.
Over 200 Korean companies have already set up their businesses in the UK.  And there are 15 Korean companies listed on the London Stock Exchange.
UK total trade in goods and services with Korea stands at over £6bn per year.
The UK is South Korea's second largest EU trading partner after Germany.  Our main exports are: general industrial machinery and equipment, medicinal and pharmaceutical products, beverages (including whisky), road vehicles and inorganic chemicals.
South Korea has the world's best broadband speeds - 57% of homes in the greater Seoul metropolitan area have connection speeds of 100 mbps.
Published 26 March 2012