Deputy Prime Minister attends townhall meeting at NYU
Deputy Prime Minister Nick Clegg answered questions on the coalition government and his ambitions for the Millennium Development Goals.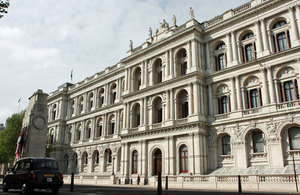 Deputy PM addresses audience at NYU
On Wednesday, New York University's Wagner School of Public Service hosted Deputy Prime Minister Nick Clegg for a townhall meeting before a crowd of almost 300 students, faculty and guests.
In her introduction, Dean Ellen Schall highlighted the Deputy Prime Minister's "cosmopolitan" background and his experience of working and studying in a number of continents. Before opening the floor to questions, the Deputy Prime Minister provided an overview of the coalition and outlined areas where they have worked together to take difficult decisions since being in government.
Deputy Prime Minister at NYU
Deputy Prime Minister Nick Clegg attends townhall meeting at NYU
Students were intrigued by the coalition government arrangement, asking the Deputy Prime Minister questions such as: what might success look like in 5 years time and what lessons might the UK model of government have for other countries with coalition governments. The Deputy Prime Minister explained the need to continue to help abroad even as the UK faces challenges at home. Students were also interested in the Deputy Prime Minister's views on the EU, Iraq, and defence policy.
Before departing New York University, the Deputy Prime Minister accepted a petition, signed by approximately 250,000 activists, from Avaaz Executive Director, Ricken Patel. The petition calls on world leaders to keep the promises of the Millennium Development Goals and act to save hundreds of thousands of pregnant women and 9 million children under 5 who die every year because of malnutrition or inadequate health services.
The DPM said "This petition demonstrates that the scandal of preventable maternal and child deaths cannot go unchecked. Over one third of a million women die from pregnancy and childbirth related causes every year. 25,000 children die every day of easily preventable diseases. The UK is putting women and children at the heart of its development efforts and is committed to doubling the number of women and newborn lives saved by 2015."
Deputy Prime Minister at NYU
(C)NYUphotobureau, Info:jayne.burke@nyu.edu
The Deputy Prime Minister also participated in the Millenium Development Goals Summit on Wednesday.
At the Summit, the UK is pushing for a clear agenda setting out a path towards the achievement of the 2015 target deadline. It is also highlighting the need to improve children and maternal health as well as reduce malaria deaths worldwide.
The Foreign Secretary, who is also in New York, meets with business leaders on Wednesday evening. Next week, he will address members of the Council on Foreign Relations.
Ask the Foreign Secretary
On Thursday 23 September the Foreign Secretary will be answering questions posted on Twitter on the UN's role in tackling global challenges. To ask a question post a tweet with the hashtag #fsunga.
Published 22 September 2010