Deputy Prime Minister attends OSCE Summit in Kazakhstan
Deputy Prime Minister Nick Clegg met with US Secretary of State Hillary Clinton to discuss a number of issues.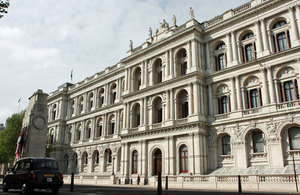 Referring to the discussion, Nick Clegg said:
"We discussed a wide range of issues, including Iran, Pakistan, Afghanistan, the Middle East Peace Process and Sudan.
I made clear to Secretary Clinton that recent Wikileaks disclosures would not affect our uniquely strong relationship. UK-US co-operation will continue with the same depth and closeness as before.
"I also took the opportunity to raise the case of Shaker Aamer, the last remaining British resident detained in Guantanamo Bay. I stressed the importance to the UK of early movement on his case."
Published 1 December 2010