Press release
Deputy Prime Minister announces thousands of pounds of new funding for Cornish language
The Deputy Prime Minister Nick Clegg today announced that the government would be investing £120,000 in Maga, the Cornish Language Partnership to promote and develop the Cornish language.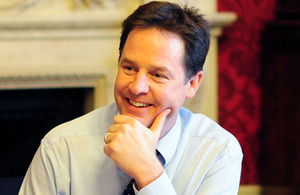 Cornish is the only language in England recognised under the Council of Europe's Charter on Regional or Minority Languages.
The Deputy Prime Minister, Nick Clegg, said:
Cornish is central to Cornwall's heritage and a living and growing language is what makes the region distinct.

The funding will help the Cornish Language Partnership use the language to encourage more visitors to the area by promoting this unique identity.

This means that local people can boost Cornwall's economy and culture, building a stronger economy and fairer society.
The funding from government will sit alongside money from local partners and will be used by the Cornish Language Partnership to promote Cornish. Their plans include working with businesses on the use of Cornish in branding and marketing Cornish products, and working with schools to increase the knowledge and use of the language.
The Cornish Language Partnership have already done a wide range of things to promote Cornish. They are supporting a web-based Cornish radio service and providing translations and promotional stands at events and festivals, language sessions to around 100 schools and marketing campaigns for Cornwall's very important tourism and visitor industry.
Published 20 March 2014