Deputy Prime Minister announces Regional Growth Fund jobs in Crewe
Bentley Motors has successfully secured an additional £3 million of funding from the Regional Growth Fund.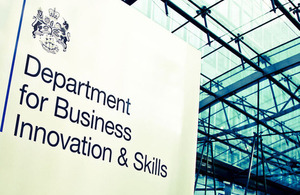 Coupled with an investment of £1.69 million from the Regional Growth Fund in January, a total of 500 new jobs are being created and 200 jobs will be protected at the company's headquarters in Crewe thanks to the funding project which sees government and the private sector work together to boost regional growth.
The further £3 million of funding will be used by the world-famous company, which has manufactured luxury cars since 1919, to fund an innovative new engine research and development project which will help the business expand into new overseas markets, including China. Over £20 million of private investment has been secured for the project alongside £3 million government funding.
The Deputy Prime Minister will visit the Crewe plant today to meet workers recently recruited thanks to the Regional Growth Fund. The company has already been able to take on around 250 new members of staff. The funding has been secured after a period of strict checks by the company and the government to ensure the deal offers the best value for money to taxpayers.
Deputy Prime Minister Nick Clegg said:
It is fantastic to be announcing 500 new and 200 protected jobs here in Crewe today. Creating jobs and growth is my number one priority for Britain right now.

For too long the UK economy has been too focused on the City of London. The Regional Growth Fund is helping companies across the country to grow their businesses and create jobs.

Today's announcement is just the tip of the iceberg for the North West. All in all 47 bids to the Regional Growth Fund have been approved. This will mean over 13,000 new and protected jobs across the region and over 41,000 supply chain jobs.
Bentley also received £1.69 million of funding in January this year from the first round of the Regional Growth Fund. The investment is being used to train new staff and create more products. 500 jobs are being created for this work.
Bentley's Chief Executive, Wolfgang Duerheimer said:
We are delighted to welcome the Deputy Prime Minister to Crewe. We are greatly encouraged by his comments that the manufacturing sector and companies like Bentley have a key role to play in developing a stronger and more balanced economy.

The funding we have received from the Regional Growth Fund will help us in two key ways. First, it will help ensure that we have a skilled workforce we need to deliver our projects and remain globally competitive. Second, the R&D support enables us to work on a key engine development project that will help us expand in key markets.

Bentley has had a fantastic start to 2012 and our sales show that there is huge global demand for high quality luxury automotive products manufactured in Crewe.
The Deputy Prime Minister will also announce that, across the country, another 22 successful Regional Growth Fund bids, worth more than £300 million have had their contracts signed. The list includes North West businesses Getrag Ford, Double R Controls Ltd and Eldonians Group Limited in the North West.
This latest batch of funding will help create more than 70,000 direct and supply chain jobs up and down the country and means that the successful companies can now access the funds they applied for, although many projects are already underway.
The announcement brings the total number of signed contracts to 70, and total investment available to companies to nearly £540 million.
Deputy Prime Minister Nick Clegg said:
These latest contracts will bring a significant boost to the companies and help them create jobs and growth.

The total support provided by the Regional Growth Fund now stands at nearly £540 million, which will help create almost 124,000 jobs. This is an excellent start, but there is more to come. More contracts are being signed all the time and with the third round of the fund up and running, more companies can put themselves forward for support with their plans for growth.
The £2.4 billion Regional Growth Fund uses public money to leverage private sector investment fund projects which will create long term jobs, sustainable growth and boost the local economy. For every £1 put in by Government, the private sector invests at least £6. So far the fund has provisionally awarded £1.4 billion to 176 projects across the country which will lead to 330,000 jobs.
The successful bidders for the third pot of money – another £1 billion – will be announced later this year.
Notes to editors
Since Bentley's application to the first Regional Growth Fund round, the company has increased employment at its site in Crewe with around half of the 500 identified roles now having been filled.
All in all there have been 47 successful bids to the Regional Growth Fund in the North West. 11 of these projects have passed due diligence and received their funding. An additional 8 of the projects are up and running and due to complete due diligence shortly.
Successful North West bids to round one of the Regional Growth Fund include:
The Liverpool Echo
Ames Goldsmith UK Ltd
Tygavax Ltd
Bentley Motors
Pilkington Glass
Bruntwood Limited
MUSE developments
Holroyd Precision
Stobart/Prologis Logistics Hub
Successful North West bids to round two of the Regional Growth Fund include:
Accrol Papers
Pirelli Tyres Ltd
Growing Autonomous Systems Mission Management Applications (GAMMA)
Lucite Darwen
Bentley motors
Siemens Manchester
Wigan Borough Council Food Manufacturing Sector group Redx Pharma Ltd
Port of Liverpool
Harpscreen Harpscreen (GB) Ltd
Digital Champions
Todmordern Curve and Weavers Triangle
Middlewich Action Plan
Project 'Star'
Crown Aintree Plant Relocation and Regeneration
Dresser European
Liverpool City Fringe
Britain's Energy Coast
Getrag Ford
Gilbert Gilkes and Gordon
Accelerating business growth Lancashire
Project Fabio
Siemens Manchester
Kerry Foods/Hyde Godley Hill Development Area
Port Salford
Diodes Zetex Semiconductors Ltd
GM SME Business Loan Fund
Manchester Business Growth Programme
Unilever, AB Sugar and Liverpool University
In total, 70 bids have been finalised and a total investment of nearly £540 million has been made available to companies. The successful projects announced today include:
| Project or Programme | Location | Region |
| --- | --- | --- |
| Getrag Ford | Liverpool | North West |
| Double R Controls Ltd | Lancashire | North West |
| Eldonians Group Limited | Liverpool | North West |
| AV Dawson | Middlesborough | North East |
| Bignall Lubritec Ltd. | County Durham | North East |
| International Pipeline Product | County Durham | North East |
| University of Bristol | Bristol | South West |
| Dyer Engineering | County Durham | North East |
| Cornwall and the Isles of Scilly x 2 | Programme | South West |
| East Riding / Yorkshire Council | Programme | Yorkshire and Humber |
| North Somerset Council | Programme | South West |
| Birmingham Council (Supply chain) | Programme | West Midlands |
| Wakefield Council | Programme | Yorkshire and Humber |
Where the location is listed as 'programme', the funding is given to an intermediary who will grant the money to various beneficiaries over time and programmes can be national or linked to a specific geographical area. For example, the Cornwall and Isles of Scilly programme from the LEP will fund various infrastructure projects and give grants to SMEs.
Contact information
Name BIS Press Office Job Title
Division COI Phone
Fax
Mobile
Email NDS.BIS@coi.gsi.gov.uk
Name Joanna Fletcher Job Title
Division Department for Business, Innovation and Skills Phone 020 7215 5951 Fax
Mobile
Published 3 April 2012