Deputy Prime Minister announces £200,000 to Show Racism the Red Card
The government is giving £200,000 to support anti-racism charity Show Racism the Red Card to run projects over the next year.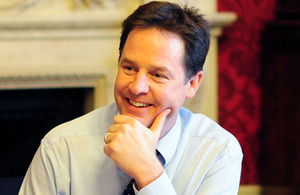 Thousands of young people across the country are set to take part in a groundbreaking project - delivered by footballers - to counter the influence of far right groups and challenge their attempts to associate themselves with the national game, Deputy Prime Minister, Nick Clegg announced today.
The Government is giving £200,000 to support anti-racism charity Show Racism the Red Card to run projects over the next year.
Among the key features of the project are:
Educational workshops for 9,400 young people aged 11-18 delivered by professional footballers that would: give young people opportunities to learn about the dangers of associating with right wing extremists, help young people to think critically about the issues and empower them to refute and challenge anti-Muslim ideas.
An educational resource for teachers, including those not involved directly in the programme.
An assessment of the impact racist groups are having on young people's attitudes and wellbeing.
Deputy Prime Minister, Nick Clegg said:
Extremism, whether from the far right of English politics or radical islamists, must be challenged wherever it is found. Our cultural touchstones, such as football, must not be perverted, the minds of our youth must not be corrupted by the insidious influence of the far right.

Show Racism the Red Card have proven their ability to use football as a means to tackle racism and intolerance, and I look forward to seeing the results they achieve with this campaign.
As highlighted in the Government's Creating the Conditions for Integration paper published last month, the coalition Government is committed to challenging all forms of extremism and intolerance and will support those who are committed to dealing with threats to undermine or reverse the steady progress being made to build integrated communities.
Communities Minister Andrew Stunell said:
The views and activities of these groups spread fear and attempt to create divisions in our communities not least through the promotion of a distorted view of Islam and of the vast majority of Muslims. 

The Coalition Government is committed to stand with local people and challenge those who deliberately raise tensions.
Show Racism the Red Card Chief Executive Ged Grebby said:
Show Racism the Red Card welcomes this funding and support - it will allow us to work with teachers and young people across the country to tackle prejudice and promote understanding. We are really pleased that the government has recognised the vital importance of education in order to build resilience and allow young people to reject the advances of those who wish to create division and hatred in our society. We look forward to working with them on this project.
Show Racism the Red Card was founded by former Newcastle United, West Ham and Portsmouth goalkeeper Shaka Hislop, the campaign's Honorary President. He said:
I am immensely proud that Show Racism the Red Card has developed from a charity set up by myself and a handful of Newcastle United supporters, to a campaign now getting world wide recognition. The announcement today by the Deputy Prime Minister Nick Clegg is another step down the road of our fight against racism, not only in football but in wider society. Together I am sure this is a fight that we can win.
Former England manager and Show Racism the Red Card patron Graham Taylor OBE said:
It is great news that the Government is helping to fund Show Racism the Red Card. This is an organisation that has done so much to help and educate young people against racism, and it thoroughly deserves all the support it can get.
Brendan Batson MBE, an honorary patron of the campaign said:
This funding agreement is tremendous news for Show Racism the Red Card and a deserved recognition for the outstanding work the organisation has done over many years in combating racism.

There is no place for these views in our national game or wider community and this excellent project will help to counter the influence of the EDL on young people and undermine their future support.
Notes to editors
Show Racism the Red Card is an anti-racism charity, which was established in January 1996. The aim of the organisation is to produce anti-racist educational resources, which harness the high profile of professional footballers to combat racism.
They will be holding a launch event at Millwall FC at 9.30am on Monday 12 March, which will be attended by Millwall players past and present. Media bids for Show Racism the Red Card spokespeople can be directed to chief executive Ged Grebby on 07710 776616.
Published 12 March 2012