Deputy Prime Minister and Environment Secretary welcome initiative on Sustainable Development Goals
The UK Government will support an initiative to build Sustainable Development Goals.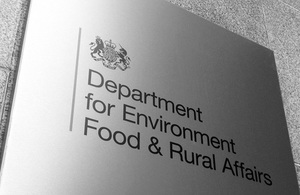 The goals will focus international attention on the need to sustainably manage the world's natural resources, Deputy Prime Minister Nick Clegg and Environment Secretary Caroline Spelman announced today.
UK support for initiating a process to develop Sustainable Development Goals was revealed following meetings in London today between Mr Clegg and President Santos of Colombia, and between Mrs Spelman and Colombian Environment Minister Frank Pearl.
The UK is one of the first developed countries to welcome the idea of setting Sustainable Development Goals, the formal process for which would be launched at the Rio+20 summit in June 2012, marking the twentieth anniversary of the original Rio Earth Summit in 1992.
Deputy Prime Minister Nick Clegg said:
"The future of the human race depends on the careful management of natural resources. As global population increases, and economies and societies advance, so we must better manage our planet's resources to ensure a sustainable future for generations to come. Failure to meet that challenge will result in immense suffering.
"I welcome President Santos's initiative, challenging world leaders to establish Sustainable Development Goals and look forward to working closely with the Colombian government and our international and EU partners to develop this idea in the run-up to the Rio+20 summit in June next year."
Environment Secretary Caroline Spelman said:
"We want Rio+20 to be ambitious and to look forward to the next 20 years.
"The global challenges we face are complex, and they all link together - we simply won't be able to tackle them successfully if we try to deal with the various problems in isolation.
"Producing more food sustainably, dealing with environmental degradation, providing access to clean energy and poverty eradication are all part of the same picture. We need green growth to deal with them.
"I welcome the proposal to use Rio+20 as a launch pad to develop new Sustainable Development Goals which will help to provide incentives for greater global cooperation to address these challenges."
Colombia, supported by Guatemala, has proposed that Rio+20 should agree a mandate to develop a set of global goals, based on major sustainability issues. The UK is keen to work with Colombia and others to explore how the ideas relating to Sustainable Development Goals can be brought together with debates among international development experts around what should replace the Millennium Development Goals after 2015.
The UK and Colombia already work together on reducing emissions and protecting forests under the Forest Carbon Partnership Facility. The UK has contributed £15m to the Facility and has welcomed Colombia's readiness plan which the Forest Carbon Partnership Facility has supported.
Notes
1. Images of the Deputy Prime Minister meeting Colombian President Santos are available at www.flickr.com/cabinetoffice.
2. Images of Caroline Spelman meeting Colombian Environment Minister Frank Pearl are available at http://www.flickr.com/photos/defragovuk/.
3. The Rio+20 summit will take place in June 2012. It will have two themes - the green economy and institutional reform.
Published 21 November 2011