Press release
Deputy PM commits millions to speed up completion of coastal paths
Nick Clegg confirmed extra funding to speed up the completion of coastal paths around England on a visit to Port Gaverne in Cornwall.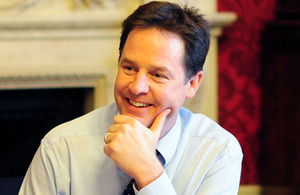 The cash will go towards completing England's vital coastal walkways by 2020, 10 years earlier than planned.
The Deputy Prime Minister made the commitment in a speech in September, and can today confirm the details of funds being made
Watch highlights from Nick Clegg's speech in September:
Under the current trajectory, 40% of coastal paths around England will be ready by 2020. But the Deputy Prime Minister wants this sped up so that all paths around England are open for walkers by 2020.
Additional funding of £44,000 this year and £5.26 million in 2015 to 2016 will provide a boost to the scheme that will ensure local people and tourists alike can enjoy the British coastline at its best as soon as possible. Further funding will then be allocated in the following years until completion.
Deputy Prime Minister Nick Clegg said:
Britain has a beautiful coastline that deserves to be explored and enjoyed by everyone, whether you're a resident or a tourist.

But opening these coastal paths was taking far too long. Under the current timescale we would have built UK's first space port before you could walk the length and breadth of our coast.

This extra funding will mean these stunning paths will be open in just over 5 years, to be enjoyed by this generation and all those to follow.
Under these plans, creating and maintaining coastal paths will provide a walking route and also a wider margin of land around the coast of England for walkers to use safely. The path will be able to move inland if the coastline erodes or suffers from landslips.
Projects in the south-west
The South West Coast Path at "Barrett's Zawn" beach near Port Gaverne has been awarded government funding to repair the path following damage inflicted during last winter's storms.
£1,114,000 was awarded from the Coastal Communities Fund to invest in the South West Coast Path.
Work is due to be completed by June 2015.
Funding will also be used for repairs at Barrett's Zawn and at other sites along the Coast Path in Cornwall and the South West that have been damaged. This includes Trevone and Daymer Bay, also in North Cornwall.
England's coastline: key facts
England has about 4,800 kilometers of coastline (excluding estuaries and offshore islands).
We make over 70 million trips to the coast each year, spending over £1.4 billion which helps support a range of small businesses on the coast. (2005 data)
It has been estimated that the South West Coast Path brings in over £300 million per year into the regional economy.
Published 4 December 2014