World news story
Deputy Governor launches civil service spotlight
The Deputy Governor launches 'Spotlight: TCI Civil Service' to recognise the vital contribution of public servants to their country.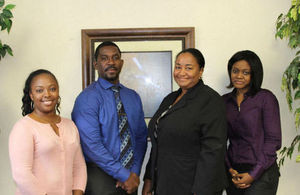 This is part of the strategic vision and plan for 2014, outlined by Anya Williams last year, to celebrate the contributions of staff across the Islands and will feature a particular ministry, department or staff every month.
I would like to launch this programme by remarking on the hugely positive contribution to the nation made by our Ministry of Health staff, particularly our five in-house doctors," said Mrs Williams. "This small team achieves so much, being responsible for looking after our Primary Health, Dental and Mental Health Clinics throughout the islands, as well as carrying out research and studying epidemiology.

They have great responsibility and highly demanding roles. Through their commitment and hard work they have succeeded through challenging times, with scarce and sometimes overstretched resources, including successfully managing the norovirus outbreak in 2012.

They have helped the social development of the TCI too, by developing and revitalising several programmes and policies, including the Clinic Exploration Program for high school and college students, the National Epidemiology Unit Health Research Internship Programme, the Teen Challenge which seeks brings about awareness to the areas of substance abuse; revitalisation of the Grand Turk Chapter of Alcoholics Anonymous and the recent launch of the Healthy Lifestyle Curriculum to GSAT students across the TCI.

So, on behalf of the country, their fellow public servants and myself, I would like to say a heartfelt thank you to the following remarkable individuals: Dr. Nadia Astwood - Director of Health Services; Dr. Jameika Harvey – Acting Director of Dental Health; Dr. Alicia Malcolm - Director of Mental Health and Substance Abuse; Dr. Terese Maitland - Chief Epidemiologist; Dr. Shandey Malcolm - Deputy Chief Epidemiologist.
Published 29 January 2014