Deputy Afghan defence minister thanks Grenadier Guards
The Afghan First Deputy Minister of Defence, Enayatullah Nazari, met with members of the Grenadier Guards last week to thank them for their hard work and sacrifice during their deployment to Afghanistan.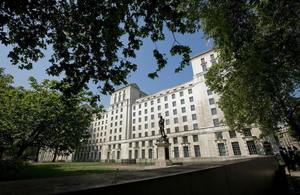 The Minister, who is responsible for the civilians working in the Afghan Ministry of Defence, met the Commanding Officer of the 1st Battalion Grenadier Guards, Lieutanant Colonel Roly Walker, and some of his troops at Wellington Barracks in London and spent time looking over photographs of their time serving on Operation HERRICK 11.
He was in London for a series of meetings, including with his UK counterpart, Ursula Brennan, Permanent Under Secretary of State for Defence.
Mr Nazari said:
Meeting the Grenadier Guards today has given me the opportunity to offer the heartfelt thanks of the Government of Afghanistan for the contribution they made during their time in our country to its security and development.

This visit has cemented the relationship between our two countries. I have been able to meet with my counterparts in the UK MOD so that we can exchange ideas and working practices which I have found extremely useful and I will introduce these new ideas into my department.
Mrs Brennan said:
It has been a pleasure to meet with Mr Nazari again after I met him during my trip to Afghanistan last year.

As partners in Afghanistan it is vitally important that we are constantly communicating and sharing our experiences in this way and Mr Nazari's visit has further contributed to the close relationship and understanding we share with Afghanistan.
Published 24 January 2011