Departure routes for British nationals in Libya
We have updated our travel advice for Libya. We now advise against all travel to the country.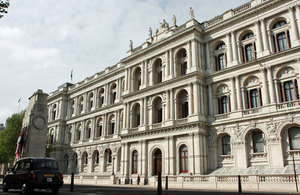 Travel advice
We are regularly updating our travel advice for Libya with information on departure routes from Libya. Please keep monitoring this advice for information on air and sea departures. You can also get our updates on twitter and facebook.
Contacting us
Call the 24 hour FCO helpline in the UK on +44 (0)20 7008 6865.

Skype - we're listed as libyacharterflight
British nationals near Benghazi in urgent need of assistance should call Thomas Smith (Warden of Benghazi) on 0021 891 831 4634.
Information for relatives in the UK
If you are concerned about a friend, relative or colleague in Libya, please call the hotline number 020 7008 6865.
Please also tell us if you know of British nationals who have recently departed Libya by other means and who you know now to be safe.
Published 4 March 2011