Press release
Departmental Response to NAO Report on the Work Programme
The Work Programme is designed to deliver a step change in our support of people who are at risk of long term unemployment.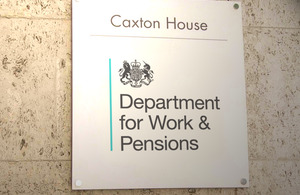 A DWP spokesperson said:
The Work Programme is designed to deliver a step change in our support of people who are at risk of long term unemployment. We welcome the recognition of this in the NAO report.

We are also pleased that the report recognises the extent of the Department's achievement in introducing the Work Programme so quickly. Previous programmes had taken the Department four years to introduce - the Work Programme was successfully launched in just over 12 months.

As part of the Work Programme's design, we had to calculate the levels of performance we expected providers to achieve. The NAO has done its own calculations, reflecting performance achieved under previous programmes. We are confident that we have contracted for more positive results.

The report also sets out the cost to the Department of terminating Flexible New Deal contracts, in order to introduce the Work Programme quickly. The Work Programme is designed to improve on the performance of the programmes it replaced (including Flexible New Deal), with groundbreaking new features like: payment primarily by results; more stretching job outcomes; more freedom for providers; an innovative funding mechanism; different payments for claimants with different needs; and more competition between providers in live running. As the report states, the Department expects these innovations to drive improved value for money over the next five years.
Notes to Editors:
Work Programme innovations recognised in the NAO report as addressing the weaknesses of previous programmes include:
a payment by results model, in which providers are paid primarily for the results they achieve in supporting people into sustained employment so what the provider earns is tied to how well they perform;
more stretching job outcomes, with payments for helping claimants sustain work over longer periods;
more freedom given to providers, to design support according to the individual's needs;
innovative funding arrangements with the Treasury which mean that providers are being partly paid out of the benefit savings they help to realise when they support claimants into sustained employment; 
different payments for different claimant groups, to encourage providers to focus on those groups that are harder to help; and
more potential for competition after providers have been appointed.  There are two or more prime contractors in every geographical area and work can be shifted between them depending on how they perform.
Published 24 January 2012