Press release
Department for International Development's settlement at the Spending Review 2015
The Chancellor has published the results of the spending review, including details of the Department for International Development (DFID) budget over the course of this Parliament.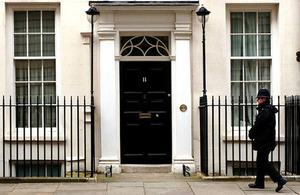 The Spending Review and Autumn Statement delivers on the government's priority to provide security to working people at every stage of their lives. It sets out a 4 year plan to fix the public finances, return the country to surplus and run a healthy economy that starts to pay down the debt. By ensuring Britain's long term economic security, the government is able to spend £4 trillion on its priorities over the next 4 years.
For DFID this means:
increasing ODA spend across government to meet the commitment to spend 0.7% of gross national income (GNI) as offical development assistance (ODA), shaped by a new aid strategy that both supports poverty reduction and aligns aid spending with the UK's national interest
allocating 50% of DFID's budget to fragile states and regions in every year of this Parliament, a major investment in global stability, including in regions of strategic importance to the UK, such as the Middle East, South Asia and Africa
establishing a new £500 million ODA crisis reserve, enabling flexible, quick and effective cross-government responses to crises as they happen and a £1 billion new fund (working with the Department of Health) over the next 5 years for research and development of products for infectious diseases
efficiency savings of over £400 million by 2019-20
Department for International Development
 
£ billion
 
2015-16 baseline
2016-17
2017-18
2018-19
2019-20
2020-21 (2)
Resource DEL (1)
8.5
9.1
9.3
10.7
11.0
*
Capital DEL
2.6
2.7
3.2
2.8
3.1
3.6
Total DEL
11.1
11.8
12.6
13.6
14.2
*
Of which cross-government ODA funding
1.2
1.6
2.2
2.7
3.1
*
(1) In this table, Resource DEL excludes depreciation
(2) 2020-21 Resource DEL departmental budgets have only been set for some departments. For the rest, these budgets will be set in full at the next Spending Review.
Security
Shaped by a new aid strategy, DFID will work to strengthen global peace and security. The government will increase aid spending to tackle the crisis in Syria and the related region. The government will also expand the cross-government Conflict, Security and Stability Fund from £1 billion in 2015-16 to over £1.3 billion by 2019-20. This will include increased resource and expertise to tackle the drivers of violent conflict which threaten stability and development.
Long term investment
Emerging and developing economies are becoming increasingly important for global growth, and the government will give greater priority to promoting the economic reforms needed to support this. The Spending Review creates a new National Security Council led Prosperity Fund, worth £1.3 billion over the next 5 years.
DFID will continue to invest in improving the lives of the world's poorest. This investment will include getting 11 million children into school, helping 60 million people get access to clean water and sanitation, saving 1.4 million children's lives through immunisations, and improving nutrition for at least 50 million people.
DFID will continue to invest more in building countries' resilience to shocks and climate change through a 50% increase in government spending through the International Climate Fund.
Reform
The government has set out a new approach to UK aid spending in its new aid strategy. Development spending will be reshaped according to the government's 4 strategic objectives of; strengthening global peace, security and governance; strengthening resilience and response to crises; promoting global prosperity; and tackling extreme poverty and helping the world's most vulnerable.
DFID will continue to improve the impact of UK aid, including through cutting programmes that are poor value for money or have a weak fit with the government's strategic objectives and reprioritising spending. This includes continuing the move away from traditional general budget support (unearmarked contributions to recipient countries' budgets) to more targeted forms of financing.
The government will aim for the first time for all UK government departments to be ranked as 'good' or 'very good' in the international Aid Transparency Index within the next 5 years.
DFID will make efficiency savings of over £400 million by 2019-20 through transformation of its administrative functions including improved central contract management, digital platform and technology. These savings will be recycled to deliver DFID's aid commitments.
International Development Secretary Justine Greening said:
Our UK aid strategy sets out how Britain will tackle extreme poverty and in doing so protect our own national security and interests.

The DFID-led UK response to Ebola alongside our work on the Syrian refugee crisis shows how DFID is playing an increasingly important role in the UK government's efforts to tackle global problems such as terrorism, disease and migration.

Our determination to achieve value for money will continue to underpin our international development strategy across government.
General media queries
Follow the DFID Media office on Twitter - @DFID_Press
Published 25 November 2015