DfE responds to media stories about public sector pensions
The Department for Education will make pension proposals in the autumn that are affordable and fair to public sector workers and taxpayers.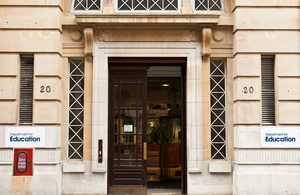 Following a number of stories in the media about public sector pensions, a government spokesperson said:
Former Work and Pensions Secretary Lord Hutton has made it clear that change is needed. People are living longer - in the early 1970s life expectancy of a 60-year-old was around 18 years: now it is around 28 years. This has meant that the value of public service pensions has increased, with most of these costs falling to employers and taxpayers. The Government has accepted Lord Hutton's recommendations as a basis for consultation with public sector workers and will set out proposals by the autumn that are affordable, sustainable, and fair to both the public sector workforce and taxpayers.
In addition, when addressing the ATL Union Conference on 20 April 2011, Schools Minister Nick Gibb said about pensions:
…We have already been clear that we don't want to see a race to the bottom in pension provision - and that public service pensions should remain a gold standard.
A good pension has long been an important part of the overall reward package that teachers expect.
Our priority is to ensure that continues to be the case. Opt out rates from the Teachers Pension Scheme are extremely low and we want to keep them that way. But we won't be able to achieve all of this if we ignore the realities of the cost pressures that all pension schemes are facing as life expectancy increases.
The combination of more teacher pensioners and the increase in their life expectancy has meant that the cost of teachers' pensions increases every year. In 2005 to 2006, the cost of paying teachers' pensions was around £5 billion. By 2015 to 2016, the cost is forecast to rise to almost £10 billion.
This is why long term reform of public service schemes is needed - and why teachers and other public service scheme members are being asked to pay a higher pension contribution from April 2012.
From the start, the Government has made its commitment to protecting accrued rights absolutely clear. All the benefits that have been built up in a teacher's pension will not be affected by any reforms recommended by Hutton. This means there is absolutely nothing to be gained by teachers seeking to retire earlier than they have planned.
The Government has accepted Lord Hutton's recommendations as the basis for discussions with all the trades unions. There have already been some constructive discussions between the TUC and the Government. The aim is to agree a package of principles for pensions reform by the end of June. I fully understand the strength of feeling here in this room - but I strongly urge the ATL to wait for the outcome of those discussions before deciding on whether to take further action…
The Hutton Report can be found on the Treasury's website.
Nick Gibb's full speech is available from the announcements section.
DfE media enquiries
Central newsdesk - for journalists 020 7783 8300
Published 21 April 2011