Department for Education confirms appointments to Ofsted's Board
Biographies of the new appointees to Ofsted's Board.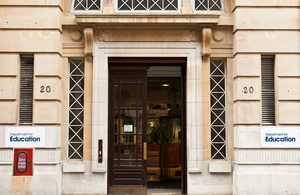 Education Secretary Michael Gove has confirmed a number of appointments to the Board of Ofsted.
Linda Farrant, Andy Palmer, Paul Snell CBE, Sir Alan Steer and Professor Geoff Whitty CBE have been appointed to serve as Ofsted board members for three years. John Roberts CBE has been re-appointed for three years.
Michael Gove said:
I am very pleased to make these appointments to the Ofsted Board. The appointees are all highly talented people committed to improving state education.
Ofsted's Chair, Baroness Morgan of Huyton, said:
I am delighted to welcome our new Board members, bringing with them the skills and experience to make a valuable contribution to Ofsted, the Board and those who use or experience the services that we inspect and regulate.
I am especially pleased that the Board is strengthened by the addition of members with adult skills, higher education, social care and schools - as recommended by the Education Select Committee- as well as the wider skills needed on a public board. I look forward to working with the new Board members over the coming years.
Linda Farrant is a CIPFA qualified accountant, who has undertaken a range of non-executive director roles and is currently vice-chair of NHS Hertfordshire and non-executive director of Metropolitan Housing Trust. She spent much of her career in local government working on finance, regeneration policy and practice and gained an MSC in Public Service Management.

Andy Palmer is Director of Education and Skills at BT and has extensive knowledge and experience of work-based learning and industry engagement in the education system. He was previously Chief Operating Officer at e-skills UK. His non-executive experience includes chairing the Qualifications Advisory Group of the UK Commission for Employment and Skills and he is currently a member of the Edexcel Qualifications Board, the CBI Education and Skills Committee and the Department for Business, Innovation and Skills Employer Reference Group.

John Roberts CBE has been a Board member since December 2006 and was reappointed in August 2011. John was Chief Executive of the Post Office for eight years and was the non-executive Director of BECTA (British Educational Communications and Technology Agency) until its closure in March 2011. He is currently a member of the Stamp Advisory Board for the Royal Mail Group and Chair of the Board of Governors for Hampton School.

Paul Snell CBE is the non-executive Chair of WDI Consulting and a Trustee and Council Member at Action for Children. He is the former Chief Inspector of the Commission for Social Care Inspection, and has also served as the Interim Chief Executive of the General Social Care Council. He was previously Director of Social Services for Nottingham City Council and began his career as a social worker in Coventry.

Sir Alan Steer was initially appointed as a co-opted member of the Ofsted Board in September 2008 as an Education expert. Prior to this, he was headteacher at Seven Kings School. He has also served as an Education Adviser to the Government, specifically advising on behaviour and discipline in schools, and as Pro-Director of the Institute of Education. He is currently a director at the Teaching Awards and chair of the judging panel for the Ambition AXA Awards.

Professor Geoff Whitty is the former Director of the Institute of Education, University of London and currently an advisor to the House of Commons Education Committee. He is a member of various voluntary bodies and has served as President of both the College of Teachers and the British Educational Research Association. He began his career as a teacher in primary and secondary schools before working in higher education. He has published many books and articles on education and social policy.
Notes for editors
The appointments and the extensions were agreed in accordance with the Code of Practice issued by the Office of the Commissioner for Public Appointments (OCPA) and were made on merit; political activity played no part in the decision making process. However, in accordance with the original Nolan recommendations and the code of practice, there is a requirement for appointees' political activity (if any declared) and other information, to be made public.
Name

Term of office
and length of
appointment

Political activity
declared
Remuneration
Other public appointments
Linda Farrant
First term for three years
None
£4,141.20 per annum, approximately 10 days a year
Vice-Chair of NHS Hertfordshire, £7882 per annum
Andy Palmer
First term for three years
None
£4,141.20 per annum, approximately 10 days a year
None
John Roberts CBE
Re-appointed for three years
None
£4,141.20 per annum, approximately 10 days a year
None
Paul Snell CBE
First term for three years
None
£4,141.20 per annum, approximately 10 days a year
None
Sir Alan Steer
First term for three years
None
£4,141.20 per annum, approximately 10 days a year
None
Professor Geoff Whitty
First term for three years
None
£4,141.20 per annum, approximately 10 days a year
None
DfE enquiries
Central newsdesk - for journalists 020 7783 8300
General enquiries - for members of the public 0370 000 2288
Published 24 August 2011