Department for Communities and Local Government announces new top structure
The Department for Communities and Local Government (DCLG) has identified the first senior posts to be lost following the reduction in the Department…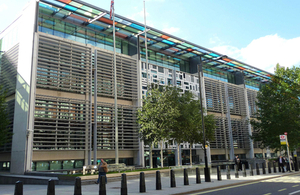 The Department for Communities and Local Government (DCLG) has identified the first senior posts to be lost following the reduction in the Department's operating budget announced on Wednesday in the Spending Review.
The number of director general posts will be cut from six to three, Departmental staff were told today.
Administrative budgets for DCLG are to be cut by 33 per cent over the four years to 2014-15.
The announcement came as the man who will shortly take over as the Department's most senior civil servant, Sir Bob Kerslake, briefed hundreds of DCLG staff on the implications of the Spending Review.
Sir Bob, who becomes Permanent Secretary at the Department on 1 November, also told staff of reductions at the next most senior grade, director: the current 21 directors will be reduced to 15 under the changes.
The new top team was not named. Instead, a process will take place between now and Christmas to select the directors general and directors who will fill the most senior posts under his leadership.
The structure of the Department will be simplified. Two of the director general roles will cover the policy areas of Localism (including Local Government, Fire, Communities and the Big Society) and Neighbourhoods (including Housing and Planning). The third director general will lead Finance and Corporate Services.
Sir Bob, who is the outgoing chief executive of the Homes and Communities Agency, signalled today that he intends to complete the restructure of the Department within two years.
He told staff that up to 40 per cent of jobs at the Department might go, and that the scale of the reductions made some compulsory redundancies unavoidable. However, he stressed that every effort would be made to minimise job losses on those terms, and that an initial voluntary redundancy scheme would shortly be offered to DCLG civil servants.
Sir Bob Kerslake told his audience:
Our Department's role is altering significantly under the Government's localism agenda. We'll do more enabling and less intervening. We'll be a smaller department but stronger - and we will play a more strategic role, punching our weight in Whitehall.

We're streamlining at every level, and it starts at the top.

This is an opportunity to improve the way we work. It's my intention that we move at pace, making these changes in two years, to reduce the uncertainty for everyone.
Under the plans shared with DCLG staff, reductions will occur in sequence through the Department, from the top down.
On Wednesday the Communities and Local Government Secretary, Eric Pickles MP, wrote to staff emphasising that change in the Department would be managed in a fair and sensitive way, showing respect for the contribution civil servants had made.
Twitter
Keep up to date with the Department by following us on Twitter (external link).
Media enquiries
Visit our newsroom contacts page for media enquiry contact details.
Published 22 October 2010