News story
Delegation to NATO features best of Wales at annual reception
The UK's Delegation to NATO hosted its annual reception at NATO's headquarters in Brussels, featuring the best of Welsh food and drink.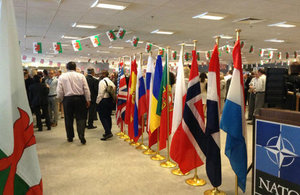 On Tuesday evening (8 July), 2,000 delegates based at the NATO headquarters in Brussels were invited to experience the very best of Wales.
The UK Delegation working with the team from the NATO Summit Wales 2014 venue, Celtic Manor Resort and Newport Council, hosted a reception for representatives from all the other NATO countries. The event, which follows the successful Foreign Ministers reception last week, allowed delegates from 27 nations to find out what Wales, in particular the host city of Newport, has to offer as a business and leisure destination. Guests had the chance to taste traditional Welsh food from Celtic Manor Executive Chef Michael Bates, and pick up golf tips from Golf Pro Joe Ferguson. The reception also raised awareness of Newport's tourism destinations including its National Trust sites, stunning countryside and the famous Transporter Bridge, which features in the Summit logo.
The food and drink on offer included Welsh lamb, Brains beer and Penderyn malt whisky, as well as a selection of fine Welsh cheese from Castell Howell Foods in Llanelli - Celtic Promise, Black Bomber, Pantysgawn, Y Fenni, Pant Mawr Drewi-Sant, Pearl Wen, and Pearl Las. Michael also cooked up Welsh cakes for the delegates, with music provided by a band from the Royal Armoured Corps.
The event was also sponsored by a number of Welsh companies, including Brains, Celtic Manor, Drink Wales, Hybu Cig Cymru, Penderyn, Radnor Hills, and the Welsh Government.
Sir Adam Thomson, UK Permanent Representative to NATO said:
The UK Delegation was proud to host a Summit Reception at NATO HQ, it was a great opportunity to give Allies a flavour of what to expect at the NATO Summit in Wales in September.
Leader of Newport City Council, Councillor Bob Bright, said:
As host city, Newport is ready to show the world and the Summit's delegates that it has the ability, infrastructure and energy to stage another truly global event. This reception will be just a taster of what is to come in Newport and Wales in September, and share details of some of the attractions on offer including our tourism, leisure and top-class business facilities. I am pleased to see Newport is being showcased to the world, and we look forward to welcoming guests from Brussels and further afield.
Ian Edwards, Chief Operating Officer of Celtic Manor Resort said:
This reception is a great opportunity for us to showcase some of the fantastic local produce we use in Celtic Manor and show everything Newport has to offer - from lamb to golf. We look forward to having even more opportunities to showcase the best of Wales around the Summit.
Published 9 July 2014
Last updated 10 July 2014
+ show all updates
News Article on Wales Summit Warm-Up Reception at NATO HQ
News article on UK Delegation Wales Summit Warm-Up Reception
First published.