World news story
Delegation of British Parliamentarians visits Guatemala
A delegation of British parliamentarians headed by the Deputy Director of the Inter-Parliamentary Union (IPU) British Group, the Conservative Stewart Jackson MP, is visiting Guatemala to build stronger relations between the United Kingdom Parliament and Congress, and meet with other interlocutors in the country.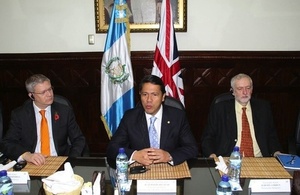 Member of Parliament Stewart Jackson and five members of the Westminster Parliament are in Guatemala for three days, during which they will meet with the President of Congress, Arístides Crespo; Presidents and Vice-Presidents of several legislative committees and other Congressmen and women; the Minister of the Interior, Mauricio Lopez Bonilla; human rights organizations and representatives of the private sector, amongst others. The parliamentarians also visited Antigua.
The delegation will also visit the Federation of Cooperatives of Coffee Producers of Guatemala (FEDECOCAGUA), where they will learn more about this organisation and taste some excellent Guatemalan coffee. Since 2012, the Department of Environment, Food and Rural Affairs (DEFRA) has been supporting a program directed towards the strengthening of the sustainable production of coffee in several parts of the country with the support of the private sector, universities and Government institutions.
This visit, according to the principles of the Inter-Parliamentary Union, is intended to exchange experiences between both legislative bodies, discuss matters of international relevance, contribute to the promotion and defence of human rights, individual liberties and stimulate economic relations between both countries. This is the second time a group of British parliamentarians has visited Guatemala in eight years. The previous visit was in 2006.
The delegation is made up of four members of the House of Commons; two Conservative and two Labour Party MPs; and two members of the House of Lords from the same political parties. The House of Commons is an elected body made up of 650 members. The House of Lords is composed of 789 life members designated by the British Monarch, and members of the clergy.
Published 11 November 2014