Press release
Defra wins Seafish Supreme Court case
Seafish is the body which supports the UK's seafood industry.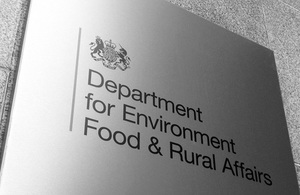 Defra today (15 June) welcomed a court ruling that reinstates the power of the Sea Fish Industry Authority (Seafish) to collect levies on imported sea fish and sea fish products.
Five Supreme Court judges unanimously overturned an earlier Court of Appeal ruling that Seafish could not lawfully collect levy on imports following a legal challenge by a group of levy payers.
The full judgment is at
http://www.supremecourt.gov.uk/docs/UKSC_2010_0098_Judgment.pdf
Defra, the Scottish Government, Welsh Government and DARDNI will continue to work closely with Seafish and the industry on how the organisation can best move forward.
The Sea Fish Industry Authority (Seafish) is a UK levy-funded Non-Departmental Public Body established by the Fisheries Act 1981. For more information go to www.seafish.org.
In 2009 a group of companies which import fish brought a case before the High Court challenging the right of Seafish to collect a levy on imported products.  Although the High Court found in favour of Seafish, the judgment was overturned by the Court of Appeal in March 2010. Defra successfully applied for leave to appeal this ruling to the Supreme Court. The Supreme Court heard the case on 24-25 March and has today (15 June) handed down its judgment in favour of Defra.
Published 15 June 2011