News story
Defra awards £19 million to help rural businesses
2,500 rural businesses across England will benefit from a share of a £19 million fund, supporting 5,000 jobs.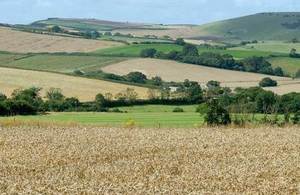 More than 2,500 rural businesses are set to receive a share of £19 million of government funding, Environment Secretary Owen Paterson will say today.
This funding has been specifically designed to boost the competitiveness of rural farming and forestry businesses and it is believed that this extra funding will support around 5000 jobs across England.
Environment Secretary Owen Paterson said:
Small businesses are the cornerstone of the rural economy, supporting local jobs, people and entire communities. That's why the government is awarding £19 million to over 2,500 small farming and forestry businesses to enable them to thrive as part of our long-term economic plan.

This will help them grow and prosper and support around 5000 jobs across England.
The funding is from the targeted Farming and Forestry Improvement Scheme (FFIS), part of the CAP-funded Rural Development Programme for England.
This funding, now it its third round, has provided over £34 million to help nearly 5,000 businesses, including farmers, foresters, woodland owners and horticultural businesses grow their businesses and the rural economy. Combined with £51 million of industry funding, this will support around 10,000 jobs.
Regional case studies
Yorkshire
North Yorkshire Dairy
Defra invested nearly £17,700 in this small dairy farm for the purchase of a heat recovery unit, which saves electricity by using bore hole water to cool fresh milk. This project also funded purchases which have improved the health and welfare of the herd including a heat detection system and auto foot segregation system.
In total eight new products and techniques were introduced to this farm as a result of funding.
North Yorkshire Woodworking Business
A family-run business in the countryside near Scarborough received £13,245 to buy a sawmill and cutting bench. This has allowed the business to increase the range of wood products available for sale to other businesses such as joiners, cabinet makers and furniture makers.
East of England
Norfolk Farm
Defra invested nearly £6,900 to help a tenant farmer buy a GPS system to be fitted to his tractor. This has allowed him to expand his business as a contract farmer, using the equipment to carefully target fertiliser application on both his own holding and those that he contract farms on.
The accurate application of nutrients will not only save him money, but also limit any possible environmental damage.
North East
Northumberland Farmer
A farmer has received £12,125 to install roofing between two existing sheds on his farm. This means that he can store muck in a dry area, reducing run-off from muck into the water supply and meaning that he can store muck for longer and use it as a fertiliser, both saving money and protecting the environment.
North West
Cumbrian Dairy
A family-run dairy farm received nearly £30,000 to buy 200 pedometers to record cow activity and improve fresh cow health. The project is also providing a slurry screw press separator which will assist with the slurry management on farm, separating the slurry into liquid and solid, with the solid being utilised to form a new innovative green bedding system used in the cubicle house.
Cumbrian Farm
A family-run hill farm received just over £9,000 towards buying a sheep handling system with EID reader, cow mattresses and 72,000 litre rainwater harvesting system. The harvested rainwater is used on farm for livestock and spraying activity reducing the requirement for mains water, which is affected by low pressure. The sheep handling system with EID reader assists with monitoring flock performance and homebred replacement selection from the best female lines. This project also funded purchases which have improved the health and welfare of the beef herd.
Midlands
Derbyshire Farm
A family-run farm received a £3,575 investment to purchase a heatime system with 60 tags, starter kit and additional reader. This has allowed the 130 cow strong dairy farm to improve fertility rates under animal health and welfare, as recommended in their vet's herd health plan, and has increased production efficiency.
Three jobs were safeguarded as a result of this investment and a new technique was introduced to address animal health and welfare in the milk sector.
South East
Kent Farm
A farm received a £6,342 investment to purchase logging equipment, so that the farm can now run a district heating biomass project and supply logs to other farms and holiday cottages.
South West
Tavistock Farm
A £7,000 grant enabled a livestock farmer to put roofing over an existing slurry tank and harvest rainwater from this and other buildings. The funding also meant he could purchase a mobile cattle crush. This project enabled safety improvements for the animals, vets and farmers and also protects the environment.
Published 9 July 2014