Defence Secretary's first US visit
The key theme of discussions between Dr Liam Fox and his US counterpart Defense Secretary Robert Gates today was progress in Afghanistan. Dr…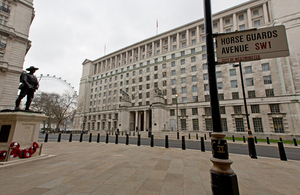 The key theme of discussions between Dr Liam Fox and his US counterpart Defense Secretary Robert Gates today was progress in Afghanistan.
Dr Fox stressed the need to keep the focus on ensuring that the necessary security conditions are met before transition to the Afghan authorities can take place.
Dr Fox said:
We cannot afford Afghanistan to lapse back into a failed state which will create a security vacuum, contaminate the region, and threaten the national security of the UK and its allies. That is why we are there and that is why we stay.

Britain, America and the NATO-led coalition as a whole are committed to seeing this campaign through to a successful resolution. The ultimate aim is to create a stable enough Afghanistan to manage its own internal and external security, which is why the NATO Training Mission is of such importance, and why we continue to emphasise its importance to those members who could potentially increase their contribution to this effort.

We want to see a transition from where we are now to a position where the Afghans can maintain the security of their own country and we can leave.
In addition to his meeting with Secretary Gates, Dr Fox spoke to Senator McCain and Senator Levin from the Senate Armed Services Committee, Senator Lugar from the Senate Foreign Relations Committee, and General Jim Jones, the US National Security Adviser. Dr Fox said:
There is no doubt that last week was a tough week but it is clear from my meetings today that both of our Governments have the determination to see the job through. We must all show the same resolve that our brave Service personnel show in Afghanistan day in day out.
The Secretary of State's programme continues tomorrow with a speech at the Heritage Foundation in which Dr Fox will reinforce how the UK and the US have stood shoulder-to-shoulder over the years and will continue to do so into the future.
Dr Fox will also be meeting representatives of British industry in the US.
Speaking in advance of the meeting with industry, Dr Fox said:
There are unique challenges on both sides of the Atlantic, with pressures on our Defence Budgets, and this meeting will afford me the opportunity to see how HMG [Her Majesty's Government] could better help industry to succeed and vice-versa. It will also be an excellent opportunity to clarify the new Government Defence priorities, to reset our relationship, and offer background on the Strategic Defence and Security Review.