Defence Secretary visits India
Dr Fox is the first UK Defence Secretary to visit India since 2005 and took the opportunity to give a speech to some of the country's top security…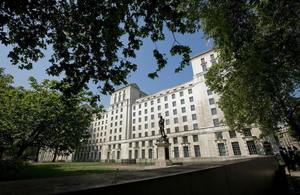 Dr Fox is the first UK Defence Secretary to visit India since 2005 and took the opportunity to give a speech to some of the country's top security officials at the Vivekananda International Foundation.
Dr Fox explained the importance of the strategic partnership between the UK and India and reiterated the UK's determination to deepen the already excellent defence relations between them.
The core aim of the visit was to begin a regular ministerial dialogue on a wide range of defence issues, engagement that will continue in the coming months. Dr Fox said:
The United Kingdom is committed to an enhanced partnership with India - one that celebrates and recognises India's position as a central player in contemporary world affairs. Our two countries have long historical connections and strong ties between our people.

We have overlapping interests in trade and in security, which are a strong basis for our future relationship. The new British Government supports the promotion of a stronger, secure and more prosperous India playing its rightful role in global affairs.
During his visit, Dr Fox laid a wreath at India Gate as a mark of respect for fallen servicemen before visiting the New Delhi offices of defence company Cassidian to discuss and promote the Eurofighter Typhoon's bid to provide aircraft to the Indian Air Force.
Dr Fox spoke to Shri A K Antony about opportunities for the UK and Indian Armed Forces to work together more closely following on from the successful joint air exercise 'Indra Dhanush' last month and the recent company-level exercise 'Shamsheer Bugle' which was the first exercise involving a British Army unit in India in over 60 years.
Dr Fox added:
During Exercise Shamsheer Bugle, companies from the UK's 4 RIFLES [4th Battalion The Rifles] and India's 18th Battalion Sikh Regiment shared experience in counter-insurgency operations. We are keen to share the experience we have gained in operations in Afghanistan and hope to host an Indian Army company in the UK next year. We want to accelerate the bilateral programme of exercises, exchanges, training and equipment co-operation wherever we can.
Published 23 November 2010